Charles Meets "The Boss" - A Veterans' Employment Success Story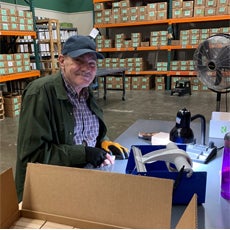 Introduction
Charles served in the US Navy from 1973 to 1975 as a Water Transportation Specialist. He served most of his time overseas in Japan, and in the China Sea aboard the USS Oklahoma. Charles stated, "I was a driver, attached to the Staff of the Admiral of the 7th Fleet, USS Oklahoma City until I drove the Admiral around a traffic circle the wrong way. For the next 14 months, I spent my time working as a deckhand and dishwasher in the South Sea!"
Charles moved to Oregon to be with his daughter and her family. After a series of unfortunate circumstances, he had to move out of his daughter's house, which lead to him becoming homeless. Charles was told about the housing assistance available at the Salvation Army by Gary, a Social Work Liaison with the Veterans Affairs Medical Center.
Finding Easterseals
During his stay at the Salvation Army Center, Charles heard other Veterans talking about the employment and training program they were in, and the help they were receiving through Easterseals Oregon's Veterans Employment program - the Homeless Veteran Reintegration Program (HVRP). He asked them how he could get connected, and one of his fellow Veterans made the referral to Easterseals Employment Specialist, Teresa Truesdell.
Finding Stable Employment
When Charles met with Teresa he told her he was in need of employment, but he needed to find an employer who was open to working with his limitations. Charles shared with Teresa that he had medical issues and income limitations and Teresa assured him that wouldn't be an issue. Teresa explained to that our program could help him find an employer that could accomodate for his needs, and that we could provide him with employment-focused training, interviewing skills, job-search and employment development assistance.
Charles is the second veteran that we referred to our employment partner, Precision Fulfillment, and they were very excited to interview him. Charles was offered a position in the Assembly and Labeling department where he works 20 hours a week and earns $15 per hour. Precision Fulfillment was gracious enough to work with our team to create a job-share schedule that met Charles' medical accommodations and his desire to only work part-time. Charles works 12-4 while another participant from our Veterans employment program (Harry) works 8-12. You can read Harry's journey to employment, here.
Charles' 4-Legged "Boss"
Charles is excited about his career, and he stated, "I am so thankful for everything Teresa and Easterseals have done for me. Even when I knew it would be hard for me to get back into the job force due to my disability and age, Teresa never gave up on helping me find employment." Charles also shared, "I love working here, and I plan on working here until I can no longer work. Rod is great to work for, and my co-workers make it enjoyable to come to work, especially our four-legged 'Boss.' (Rod's dog) Don't tell the others, but she is my favorite."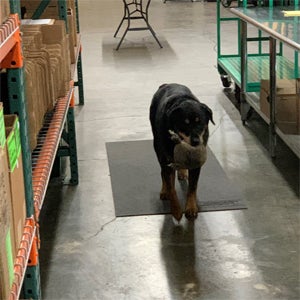 If you or anyone you know is a US Military Veteran who is homeless or at risk of homelessness, please contact us by clicking here to learn how we can help!
For more Stories of Hope like this one, follow us on Facebook and Instagram by clicking the logos below.
---
Contact Us Locations Partnerships Donate