For Immediate Release
Putting Technology in the Hands of Those Who Need it Most
Comcast Grant Empowers Easterseals Oregon to Change Lives
December 15, 2020
Easterseals Oregon has been providing services to the most vulnerable populations in the state since 1947. Over the last 73 years, we've overcome obstacles, changed lives, and learned what it truly means to be Oregonians. All of this could not be accomplished if not for the overwhelming support of our partners like Comcast Oregon.
We are happy to announce that Comcast is helping us bring 2020 to a close with some much-welcomed positive news: Comcast Oregon has awarded Easterseals Oregon with a grant of $30,000 to provide our participants with laptops that will enable them to adapt to some of the biggest challenges that 2020 has presented.
As a nation, we've watched our resilient society move from valuable face-to-face meetings, interviews, and various social gatherings to meeting virtually and over the phone. Though the majority of us have gradually adapted to this "new normal," many of the most impacted members of our society do not have access to the appropriate technology for these adaptations.
Our participants – including homeless veterans, individuals with disabilities, and seniors re-entering the job market – will be empowered to pursue job opportunities, connect with family, meet virtually with our staff, and accomplish so much more, thanks to the technology that will be provided by this grant from Comcast Oregon.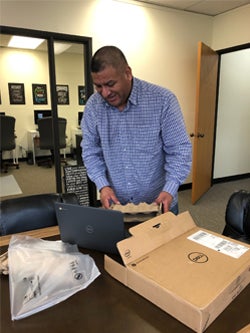 We'd like to extend our deepest gratitude to Comcast Oregon for being a force for positivity in a time when some of the most vulnerable Oregonians need it the most. In the coming weeks, we will be able to show the impact of this grant via our social media and via the "Stories of Hope" section on our website, so please follow along to see how your dollars can truly make a life-changing difference at Easterseals Oregon.
---
Contact Us Locations Partnerships