Walk, Run, Roll With Me
Annual Charity Walk, Run, and Roll Event!
Easterseals Oregon is proud to present our annual charity walk, run, and roll event to raise funds for our programs across the state.
Join us on August 27th for the 2022 Easterseals Oregon Walk, Run & Roll Challenge!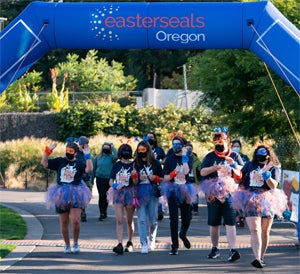 This is a very special opportunity to walk, run, or roll through the Oregon Zoo before it opens to the public. Participate directly in a tangible, fun, and meaningful way along with people of all ages and abilities to make an impact in building a more inclusive, equitable society for all. Walk, Run, and Roll is a collective opportunity to celebrate the accomplishments of children, families, adults, and veterans impacted by disability and to raise $100,000 to serve even more of those in need. Following the challenge, join us for an After-Party with great live music, a delicious hot breakfast, a fun Awards Presentation, a Live & Silent Auction and more!
---
Event Day: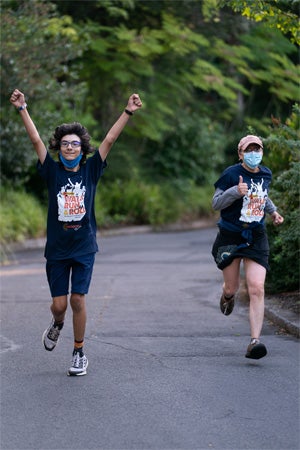 Schedule:
7:00 AM - Registration opens (just inside the Oregon Zoo entrance)
7:30 AM - 5K Fun Run starts
8:00 AM - Walk & Roll starts
9:00 AM - After Party/Breakfast/Live Music/Awards Presentation/Live Auction
12:00 PM - Our event ends; you and your guests are free to enjoy the Oregon Zoo for the rest of the day!
Your Options:

1.) Register and serve as a Team Captain (Create a team)
2.) Register and join an existing Team
3.) Register and fundraise on your own
4.) Register and attend the Live Event (no fundraising)
5.) Register to particpate virtually
6) Make a donation to support a fundraiser or team or this challenge as a whole
Live Event Includes:

1.) A private 5K Fun Walk, Run or Roll through the Oregon Zoo (before it opens to the public)
2.) Free All-day tickets to the Oregon Zoo (valued at $24/adult and $19/child).
3.) Free Starbucks Coffee & Hot Chocolate
4.) Free Face Painting & Scavenger Hunt for Kids (with Prizes!)
5.) The After-Party with a hot breakfast, mimosas, awards, a live & silent auction and live music from Left on Tenth -- a Portland based 6-piece Funk-Rock-Reggae Fusion Band that will get you dancing. A good time is totally guaranteed! Listen here!
---
Left on Tenth
We'd also like to extend a special "thank you" to the band Left on Tenth for playing at our event again this year! Your music is absolutely delightful and has been very well-received by our attendees!
If you're interested in checking out the band, you can find them on Instagram here, and you can check out some links like their Spotify and YouTube here.
---
This event was made possible in part by the following partners