28 Years Later, Tina has a Job! #Lifesmoments
After transitioning out of high school at the age of 18, all Tina wanted was to get a job and earn a paycheck. That's why she came to Easterseals New Jersey, seeking vocational training and assistance towards fulfilling that goal. For years, Tina was overlooked by potential employers due to the fact that her production rates were low and she lacked the ability to receive constructive criticism without become upset. Facing such continuous rejection would cause some to give up and move on. However, Tina worked with her staff to identify strategies that would help her overcome these shortcomings. She redoubled her efforts and now, at the age of
46, Tina is proud to announce that she has landed her first job! Tina is officially a greeter at Walmart and she couldn't be happier. When asked about how she feels about going to work, she responded by saying her only regret is that she can't work MORE. Now, that's what I call a dedicated employee. Walmart is lucky to have her.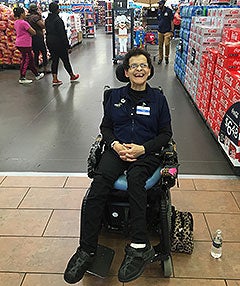 The team down in Millville Employment Center did a fantastic job assisting Tina and we are so happy for her. Thank you Angela for capturing this exciting#lifesmoment on video!
Updated 6/9/16