Students Graduate School-To-Work Transition Program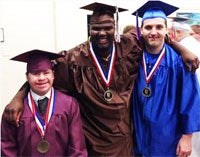 Recently, Easter Seals NJ's Employment Services in Millville had several students graduate from the School-to-Work Transition Program (STW).
Jairo, Mark and Wayne participated in the STW program at Easter Seals through their school - Cumberland County Technical Education Center (CCTEC). The program allows students to gain hands-on work skills training while they are still attending school and also helps them gain an interest in a career so they do not have to land blindly on their feet after they graduate.
During the training, which lasts approximately 2 months, the evaluator determines the participants' abilities, skills, work readiness, and interests through assessments and observations. Ultimately, the evaluation will help determine if the individual is appropriate for work in the community or if the individual would benefit from a workshop or an activity center environment. Throughout the entire process, the evaluator mentors, coaches and follows along with them as they learn and acquire new skills.
The program also helps identify a career path for them and allows them to build a working resume. Upon completion of the program, the graduates can either participate in a Work Adjustment Training which would help minimize any barriers they might have to finding a job in the community, remain at Easter Seals as an Extended Employee, or be referred to Supported Employment Services for pre-placement and job coaching once they obtain a job in the community.
All three graduates learned excellent work skills and are eager to come back after their graduation for a Work Adjustment Training. Each of them has made great strides, whether it be increasing communication skills, behavioral skills, or work skills. During the graduation ceremony, they were all presented with different awards. Mark received the Easter Seals Award for his excellent participation and attendance.
Easter Seals is very proud of their achievements and look forward to continued success in the next chapter of their lives.
Learn more about our Workforce Development Training & Employment Programs