Participants Contribute to Successful Earth Day at SCMUA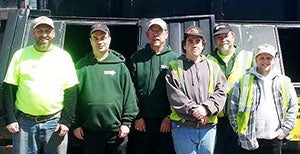 Another Earth Day may have come and gone, but for one group of dedicated program participants at Easter Seals NJ's Employment Site at Franklin Highlands, every day is Earth Day. Gerard, John, Kevin, Ronnie, Ken, Paul, Michael, Tim and Robert report to work – some for as long as 19 years! – to the Sussex County Municipal Utilities Authority (SCMUA) county landfill and recycling center.
Every morning you'll see them patrolling the grounds, picking up litter to keep the landfill from looking like a "dump". Then it's over to the public areas to help customers remove their bagged household garbage from their cars and onto scales so it can be weighed and then "thrown" into a compactor. At the Recycling Center, they help the customers sort their items into the proper receptacles.
This year, over 450 students visited the SCMUA to learn and celebrate Earth Day while the group of Easter Seals program participants patrolled the area and kept traffic moving to better accommodate the unusually heavy volume.
"It is so important to have the Easter Seals group available to assist SCMUA customers during this busy time," said recycling coordinator, Reenee Casapulla. "They are always pleasant and willing no matter the weather conditions. We consider 'the boys' to be a part of our team!"

Hand in hand they work with the SCMUA employees and supervisors five days a week, year round, in all kinds of weather. Now that's dedication!
Learn more about our Workforce Development Training & Employment Programs