Olga's Transition from Participant to Valued Staff Member!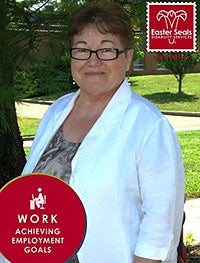 After being employed for 29 years, Olga was placed on disability as a result of the physical demands of her job, which required standing for long periods of time. This resulted in a significant loss of wages and she found herself no longer able to meet her living expenses.
She learned about Easter Seals Senior Community Service Employment Program (SCSEP), which provides job training and employment opportunities for eligible individuals age 55 and older, from a friend.
Given her bilingual Spanish/English skills, we determined that Olga would be a good candidate for a SCSEP Resource Assistant position where she would be involved in helping other disadvantaged seniors also re-enter the workforce.
According to Olga, her self-taught knowledge of the English language was a result of her determination to achieve her goals. With support and encouragement from the Easter Seals SCSEP staff, she was able to enroll in an ESL (English as a Second Language) class which gave her the confidence and new sense of purpose she needed to overcome her fears of learning computer skills.
Olga has proven to be a fast learner who always approaches her work with energy and enthusiasm. She quickly became respected and well-liked by the other program participants and staff alike. Ultimately, Olga was hired as a Senior Resource Assistant on the SCSEP team and has truly become a valued asset to Easter Seals NJ!
Learn more about Senior Community Services Employment Program