Merenda's Life Gets Back on Track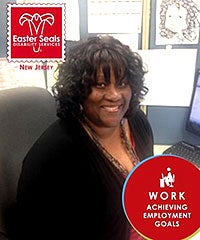 When the business Merenda owned and operated for 8 years closed, she was unable to find employment for two years and was pretty discouraged when she came to Easter Seals NJ's Senior Community Support Employment Services (SCSEP) in 2010.
The SCSEP program provides training and employment assistance to seniors on a limited income who are struggling to enter the workforce.
"When you have been out of a job for a long period of time – whether you closed a business, were laid off, or unable to work due to illness – getting back into the workforce can seem a daunting task," Merenda says.
However, right away she embarked on classes and training which provided plenty of helpful strategies for her employment search. She refreshed her resume, honed her interviewing skills, and began to reestablish relationships with potential references. Through the SCSEP program, she was also provided with financial assistance for car repairs and utility payments.
She began training within our SCSEP office and from there, she was ultimately offered a permanent position as a Senior Resource Assistant. It has been a gratifying and fulfilling experience to be able to assist people that were in the same position as she was.
For Merenda, it's the best of both worlds – being able to help others at the same time. "Easter Seals was a life saver for me," says Merenda.
Learn more about Senior Community Services Employment Program