Jessica Goes from Almost Homeless to Landing Dream Job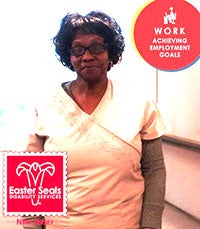 The last week of every September is National Employ Older Workers Week.
Jessica is the perfect example of why employers rate older workers high on characteristics such as judgment, commitment to quality, attendance, punctuality...and, perseverance!
As a result of difficulty finding employment, Jessica was on the verge of becoming homeless. She had a strong work ethic, enthusiasm, and valuable work experience. The only thing she lacked was a door of opportunity.
Fortunately, she found her way to Easter Seals NJ's Senior Community Support Services Program (SCSEP) and immediately began training to gain current work experience. Jessica was the model program participant - flexible, cooperative, and eager to learn.
With the help of SCSEP, she took computer classes, conversational Spanish classes, and obtained her certificate as a Certified Home Health Aide which landed her her dream job as a live-in Certified Home Health Aide!
Easter Seals NJ SCSEP is proud of Jessica's refusal to let life's circumstances get the best of her and wish her continued success on her path to independence!
Learn more about Senior Community Services Employment Program