Hector Overcomes Obstacles to Employment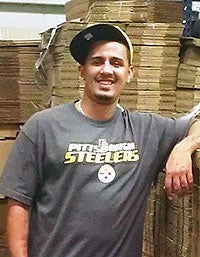 As a young teenager, Hector found himself in the throes of substance abuse as a result of the frustration the struggles and challenges of living with multiple disabilities presented.
Due to his inability to cope with his disabilities and the lack of proper support systems, his addiction continued for more than two decades keeping him from achieving milestones like finishing school, obtaining a driver's license or gaining employment.
Approaching his 30's, Hector was desperate to change the course of his life and reached out for help with addiction recovery. Soon after, he was referred to Easter Seals NJ's Employment Services in Millville in 2011 for a pre-vocational evaluation.
During his evaluation Hector displayed empathy, patience, compassion, a willingness to learn and improve, and was eager to complete any and all tasks assigned.
Towards the conclusion of his evaluation, a position within Easter Seals' Millville employment facility became available and Hector was encouraged to apply, despite his background. He was hesitant however, because he had never obtained his GED or a driver's license.
Even so, Hector stepped out of his comfort zone and applied for the position. Due to what was observed during the time he was being evaluated, Hector was chosen for the position. Since then, he has been taking GED classes and obtained his driving permit.
Through his hard work and the help of Easter Seals, Hector has proven to be a real asset. Because Easter Seals focuses on ability, rather than disability, Hector was given the opportunity and the tools to fulfill his goals, build his confidence, and change the course of his life.
We are very proud of Hector and look forward to being a part of his continuing growth!
Learn more about our Workforce Development Training & Employment Programs