Future Leaders in Washington, D.C.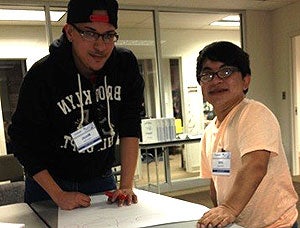 Over a cold January weekend in Washington, D.C., Miguel took the first steps towards becoming a youth leader within his community.
Miguel, who completed Easter Seals New Jersey's Middlesex County High School-High Tech program upon graduating high school, had never been to Washington, D.C. But during a three-day Youth Action Council on Transition (ACT) Conference and training session, Miguel found his voice.
"We need to work on transition services for youth like me in New Jersey," he said to a group of budding youth leaders and disability advocates. "Some kids don't even know transition services exist. And we really need to improve services."
Miguel and fellow HS-HT participant Jose, along with HS/HT Program Coordinator, Jerome Montes, made up one of five Youth ACT teams selected from a pool of nationwide applicants to participate in the training conference.
Miguel and Jose had already demonstrated their potential as youth leaders as participants in the High School-High Tech after-school enrichment program which provides high school students with disabilities the opportunity to explore careers or post-secondary education leading to careers in Science, Technology, Engineering or Math (STEM)-related fields. The program links youth to a broad range of experiences that will enable them to meet the demands of the 20th-century workforce. As program participants, Jose and Miguel took part in paid summer internships, attended workshops that honed their interview and resume building skills and visited sites of technological interest such as the Liberty Science Center museum.
Youth ACT is a national pilot project that focuses on developing youth leaders within the disability community. These leaders will in turn partner with adults and organizations to improve opportunities for youth to succeed in life. Youth ACT activities will include advocating for similar youth within their communities, making outreach efforts to school districts, political leaders, government agencies and employers, and serving as role models for other teens. The project is funded by the US Department of Labor's Office of Disability Employment Policy (ODEP) and led by the National Collaborative on Workforce and Disability. The conference and training were administered by the Institution for Educational Leadership, which will oversee Youth ACT operations.
During the conference, Miguel and Jose attended lectures on the history of disability advocacy, learned networking and advocacy techniques from experienced advocates and political operatives, and received encouragement from guest speakers such as Rebecca Cokley, Executive Director of the National Council on Disability, an independent agency charged with advising the United States Congress and the White House on issues of national disability public policy. Cokley overcame severe physical disabilities to serve in the Obama administration.
"You're going to hear a lot about what you can't do," she told Youth ACT participants. "But don't listen to that advice. Think about what you want to do, and find a way forward."
"It's amazing that someone like her worked for the White House," said Jose. "It is very inspiring."
In Youth ACT, Miguel and Jose can further develop their leadership skills. The program has also connected them to other youth with disabilities and disability advocates. Miguel, Jose and Jerome make up the New Jersey team, and during the conference they were able to network with teams from California, Rhode Island, Tennessee, California and Washington, D.C.
"I've never met so many cool people," said Miguel. "It's been an eye-opening experience."
Miguel and Jose plan to make their first project assisting youth in their area with transition services, particularly those provided by Middlesex County branch of the state's Division of Vocational Rehabilitation Services. DVRS is tasked with helping individuals with disabilities find employment, but Miguel, who uses their services, feels that some things can be improved, especially for adults just out of high school. Jose had not even heard of the department before participating in the Youth ACT conference.
"We want to improve and promote available services for youth," said Jose.
Learn more about our High School-High Tech Program