Adrian Returns to Work in the Community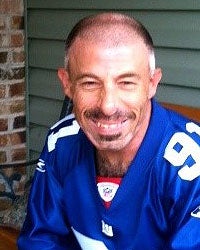 Adrian is a 39 year old gentleman with a disability who came to Easter Seals NJ's Employment Services in 2012.
"I had the pleasure of working closely with him and his family who remain supportive and positive," says Joanna, his employment coach. "They said Adrian was a very hard worker."
Over time, it became apparent to the Easter Seals employment staff how dedicated and optimistic Adrian was and how he really wanted to secure employment in the community.
The employment services team helped him apply to various retail industries where Adrian could shine brightly with his outgoing personality. He had previously worked for Home Depot and, having had a significant impact on his coworkers, it was decided that returning there was a possiblity Adrian was interested in exploring.
It was clearly evident that Adrian had a great working relationship with everyone because anywhere you would go in the store they knew Adrian and would stop and talk to him. Adrian was hired on the spot during his initial interview and Adrian expressed his excitement at returning and even more so to be getting his own tools and a uniform with his name on the pocket.
With the help of the Easter Seals staff along with Adrian's co-workers, he quickly mastered all of his job responsibilities. This has developed into a strong relationship with his direct supervisors and co-workers who are there to help Adrian whenever he might need it.
According Adrian's supervisor, he's a great worker and feels that over time he will get even better at his job.
Easter Seals is very proud of Adrian's accomplishments and are honored to have have been able to help him achieve his potential. We know that he will make a lasting impression wherever he goes.
Learn more about our Workforce Development Training & Employment Programs