Easterseals Impacts David's Family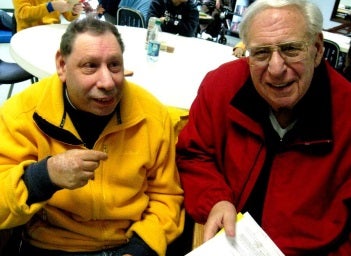 Easter Seals New Jersey Impacts David and his Family Caregivers
David's story is another great example of not only impacting the lives of our program participants, but the family caregivers as well! A participant at Easter Seals NJ's Community Support Services Adult Day Program in Mercer, David was diagnosed at birth with a rare neurological condition causing developmental abnormalities.
When he joined Easter Seals in 2005, he was extremely shy and preferred to isolate himself most of the day instead of interacting with his peers, and refused to participate in in community outings. David also struggled with communication which made it difficult for Easter Seals staff to understand his feelings or desires.
David's father, Larry, recently shared with us how pleased his family is with the marked improvement they've seen in their son over the past few years. "David used to just sit on the sidelines of activities, but now he participates," Larry said. "He is talking more because the Easter Seals staff has taken the time to understand his style of communication."
Because David is now willing to join in with the day's activities both at the program site and out in the community with the staff and his peers, he communicates more with them which has resulted in improved communication skills overall, including at home with family and friends.
"Easter Seals has lifted up my life and has been great for our family," said Larry.
We are very proud of our dedicated staff members for demonstrating the Easter Seals mission and making a difference in the life of David and his entire family.