Erik's Journey to Independence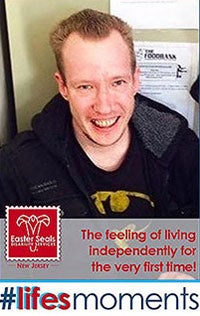 Erik's journey with Easter Seals began in 2007 after having been in and out of hospitals and struggling with both mental illness and drug and alcohol addiction.

He knew he needed to try something different and was ready for community living. With medication assistance and education, the recreation and social activities, combined with the intense support of the Easter Seals staff, it was not long until Erik was ready to move into a less-supervised setting. Excited to meet his new peers and the Easter Seals staff that would be assisting him in the next step of his journey to independence, he couldn't wait to explore his new community and greater self-responsibility.

In May of 2011, he was a guest of honor at Easter Seals NJ's "There's No Place Like Home" event which celebrated Mental Health Awareness Month and raised funds for its local residential behavioral health services where Erik was a resident. He was chosen for his achievements at that time having graduated from his day program, maintaining four years of sobriety, and his readiness to begin seeking employment with the assistance of his job coach.

Since then, he has successfully maintained his mental health, no hospitalizations, and has overcome his inability to manage his medications. He also enrolled in a vocational training workshop four days a week and, with the assistance of the Easter Seals staff, learned how to navigate and travel the public transportation system.

The staff began working collaboratively with Erik's mother to help him secure his own apartment and today, Easter Seals NJ celebrates the fulfillment of its mission in helping him achieve true independence as he moves out – and on to the next adventure in his life.

"I don't know where I'd be today if it weren't for Easter Seals," Erik says. "Through the years, the staff has done so much for me and helped me to maintain my sobriety and live a better life."
And the staff at Easter Seals and all of Erik's peers are proud of him for how far he's come. As much as he will be missed having become a part of the Easter Seals family after 7 years, we're all looking forward to seeing him achieve many more goals in the future and can't wait for him to keep in touch and let us know how he's doing!

Do you have a special life moment like Erik's? Share it with us on Facebook and Twitter and be sure to tag your story with #lifesmoments!
Published May 26, 2014