Marine Veteran Overcomes Homelessness and Depression With The Help of Easter Seals New Jersey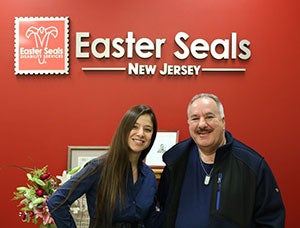 Frank was wounded twice during his service in the United States Marine Corps and saw combat in three countries during his eight years of service. While his wounds may have healed, he returned home with a different enemy, post-traumatic stress disorder (PTSD).

For Frank, transitioning to civilian life was difficult. As Frank explained, "I felt isolated, but was embarrassed to tell anyone how I was feeling. After all, marines are tough guys right?" While a missing limb is easy to see and understand, mental illness is hidden and insidious. Frank struggled with his PTSD for some time, but ultimately got past it on his own. Life began to turn around for him. With the G.I. Bill, Frank was able to get his degree. He eventually got married, and had two great kids, and was able to provide well for his family.

Life was good for twelve years, until he went through a bitter divorce, and his depression returned, only much worse this time. "I was unable to work, and was unable to cope with anything" explained Frank. He ultimately ended up losing his residence, his car, everything he owned. "Once you fall into the black pit of depression and PTSD, it is almost impossible to climb out."

Frank applied for and was awarded Supplemental Security Income (SSI), but found that the most difficult thing to obtain in New Jersey was affordable housing. For years he lived in rooming houses and motel rooms until this past summer when rates were raised to summer levels which he could not afford, ultimately making him homeless.

By a stroke of luck, his counselor knew the homeless outreach supervisor at Easter Seals New Jersey, and Frank was quickly approved for a spot in their independent living program. "That was six months ago, and I cannot begin to tell you how much better my life is now. Having a home restores self-confidence, and gives you hope for the future", explains Frank.

"I am on my way back to full independence! Easter Seals has given me my life back, and I will always be grateful for them for that. Not only are their employees extremely supportive, they are all good, caring people who want their clients to succeed", explains Frank.