Keeping A Legacy Alive
Including Easter Seals in your will is a way to honor a loved one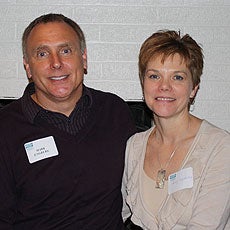 Giving back to an organization that has touched your family personally is a wonderful way to keep a legacy alive. Mark Engberg's sister, Mary Beth, who lived with cerebral palsy, enjoyed many summers at Easter Seals camp. Mark realized then the impact that services provided by Easter Seals could have on people with disabilities and their families.

When Mark and his wife, Patty, decided to leave a gift in their will to benefit Easter Seals, they knew their gift would help people with disabilities—like Mary Beth—for generations to come.

In making their gift, Mark and Patty became part of the Easter Seals Legacy Society, which recognizes donors who have let us know that they've left a gift through a will or trust; a charitable gift annuity; a charitable trust; or a gift by beneficiary designation to benefit Easter Seals. Currently there are more than 540 members of Easter Seals' Legacy Society.
"Easter Seals has been around for a long time, and with this gift, we're doing our part to make sure they will continue to be around long after we are gone," Mark says. "It is so important that people with disabilities get the services they need."