Karol & Andrew Quit Smoking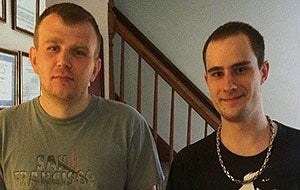 Karol and Andrew, residents of an Easterseals NJ group home for people living with the challenges of mental illness in Somerset County, recently chose to support each other in their effort to quit smoking.

Both have faced struggles and obstacles in life that make quitting smoking even that much more difficult. Karol has had to overcome substance abuse and re-integration in the community after a lengthy hospital stay. Andrew suffered a traumatic brain injury and was referred to Easterseals to become more independent and learn to manage his symptoms on his own.

While it took some time to adjust to the group home setting, both Karol and Andrew have become productive members of their community and have been supporting each other in their transition to a more independent environment and working to improve their mental and physical health.

When asked about the motivation to quit, Andrew replied that he wanted to live a longer life and be healthy. His advice to others trying to quit? "People should try not to think about it when they are quitting," he says. "They should keep themselves preoccupied and find productive tasks to do to avoid the urges."

Both Karol and Andrew have now set their sights on future goals of education, employment and fully independent living. The staff at Easterseals are all very proud of their accomplishment and can't wait to see what achievements come next!


Learn more about our Community Living Mental Health Programs
Last updated: May 8, 2017