Carolyn's Great Strides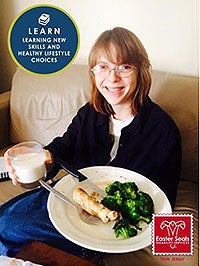 When Carolyn first arrived at Easterseals NJ's group home for people living with the challenges of mental illness in Somerset County, she had just been discharged from a hospital stay, had difficulty controlling her impulses, and was unable to manage her own medications.

The Easterseals staff immediately began working alongside her day program and family support system to assist her in facing and overcoming her obstacles and improve her overall quality of life. Eventually, Carolyn progressed to being able to move to another Easterseals group home with less supervision and more independence.

Since then, Carolyn has continued to grow and implement positive changes in her life. While participating in the Community Living Program, she is learning to plan and prepare healthy meals.

"Easterseals has helped me to become responsible with many things including managing my medications and recovery programs, and being on time for appointments and social events," says Carolyn.

The Somerset County staff are all very proud of her progress and will continue to support and encourage her to reach all of her goals. Way to go, Carolyn!
Learn more about our Community Living Mental Health Programs
Last updated: May 8, 2017