Ruben Ventures Out into the Community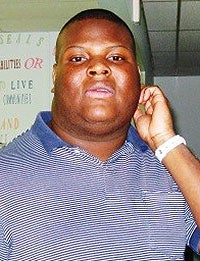 When Ruben arrived at the Easter Seals adult day program in Mercer in August 2012, the first few days were challenging for him and the staff alike.
Diagnosed with Autism, Ruben wore an electronic bracelet to track his movements should he try to wander off or separate from his group. Knowing that it would benefit him immensely to experience life in the community, the staff began to accompany Ruben on short walks outside the center. But he was uncomfortable going out with anyone other than the staff members he worked closest with.
Gradually, with the close support and encouragement of the staff, he began participating in outings with the other program participants and recently was able to participate in a trip to the Howell Living Historic Farm and a bowling outing. This was a big accomplishment for Ruben and opened his eyes as to all the exciting experiences that being out in the community has to offer him. Since then, he has gone on many differing outings.
The Easter Seals staff is proud of Ruben and looks forward to seeing him blossom as he develops new relationships and enjoys new experiences.
Learn more about our Adult Day Programs