Program Participants Train for Emergency Preparedness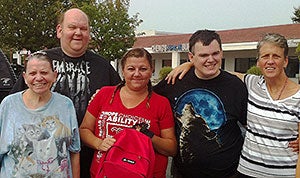 Recently, several individuals who attend Easter Seals NJ's adult day program for people with disabilities in Rio Grande participated in an Emergency Preparedness Training presented by the New Jersey Division of Disability Services at the Cape May County Public Safety Training Center.
Each participant received a Disaster Kit which included prepared food, water, flashlights, batteries, first aid kits, a whistle, body warmers, light sticks, biohazard waste bags, moist towelettes, emergency thermal blanket, portable radio, gloves and a poncho.
The group was informed that in an emergency they may not be able to cook, cool, light or heat their home, use equipment that depends on power, use regular means of transportation, access cash or services they rely on or shelter in an accessible place for a period of time. A 3-4 day supply of food, water, and other essential items is enough to be prepared for most emergency situations. Since people with disabilities are required to provide information about their disability-related needs upon arrival at a shelter in order to receive accommodations, they were instructed to be informed, make a plan, prepare and maintain their emergency kits.
The group learned about power outages, blizzards, fires, and cyber and terrorist attacks. They were told that service animals do not need to have proof of registration in order to be taken into an emergency shelter. After the training, they were given a true or false quiz to help them remember what they'd learned.
Learn more about our Adult Day Programs