Marion Receives NJACP Community Star Award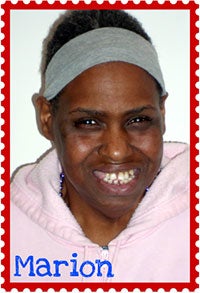 Marion, one of four siblings raised solely by their mother, attended special education classes until the age of sixteen when, due to her mother's illness, she was enrolled in day programs and moved to a boarding home.
For more than 20 years, Marion resided at the boarding home where she received little support or guidance. Other than medication administering once daily, she was essentially left to fend for herself without much privacy or support. Understandably, she grew isolated and distrustful of people.
When Marion was eventually transferred to an Easter Seals residence, the staff worked closely with her to begin trusting people again. Through patience and compassion, she gradually began to adapt to her new surroundings and lifestyle at Easter Seals. Despite her disabilities, Marion was able to increase her life skills by attending cooking classes, arts and crafts courses, and working toward other daily goals and tasks she set for herself with the help of those overseeing her care and personal growth.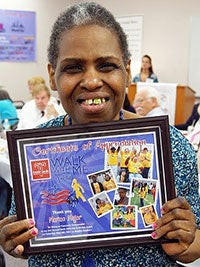 In addition, Marion began advocating to work on improving her physical wellbeing by pursuing exercise goals, attending a gym, and participating in Easter Seals NJ's Walk With Me events, for which she was selected as an Honorary Ambassador to publicly represent her peers and the organization. With all these goals being completed conscientiously, Marion began losing a significant amount of weight which resulted in overcoming her struggle with Type 2 Diabetes.
Despite all of the challenges and struggles she faced during the first half of her life, today, at age 57, Marion demonstrates a daily eagerness to enjoy her life and the opportunities that surround her. She consistently displays her desire to continue the development of her own independence by staying healthy and making positive choices and decisions in all aspects of her life.
Marion Major is truly a STAR in many ways!