An Ode to Joy for Sherry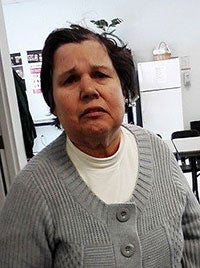 There is a seed of joy within each of us that, when properly watered and cared for, will bloom into the most beautiful of flowers.
When I first started working as a direct support professional three and a half years ago, Sherry, a program participant at Easter Seals NJ's Community Support Services (CSS) Adult Day Program in Bergen County, appeared to be a sullen middle-aged woman. She would rarely participate in activities, and sarcasm would frequently flow from her lips. Because of partial paralysis, Sherry never danced at our parties, although we encouraged her to move as much as possible. Usually, she would just scowl and ask us to turn down the music.
As new staff came aboard, more care was poured into Sherry. Direct support professional Sean T. was one of the bright new lights in Sherry's life. He would pay extra-special attention to Sherry's needs and help her create works of art that were proudly displayed at our center. He regularly challenged Sherry to her favorite game of Scrabble in which he would often purposely forfeit to help build Sherry's confidence. Sean also began to ask Sherry to paint or to color positive affirmations that would decorate the center's walls. It was as if enabling water was regularly being poured onto her little seed of buried joy.
Tuesdays have become a favorite day for Sherry as she goes to sing at the Hamilton Nursing Plaza and Rehabilitation Center in Passaic while I play the piano for all in attendance. On one recent visit, some of the program participants decided to dance to the tune of "Memory" from the Broadway show Cats as I played it on the piano. When Sherry, who usually needs help walking, began to stand up from her seat and walk by herself, I asked her where she was going. She replied, "To dance," as she hobbled toward the other dancers in the room. The nursing home staff helped her to the "dance floor," where she proceeded to dance with the others as she smiled from ear to ear. Her joy was so obvious and wonderful that tears of gratitude welled in my eyes.
On this day, the buried seed of joy in Sherry began to blossom into an incredibly beautiful flower...
And it is days such as these that remind me how much I truly love my job.
- Dawn Wider, Direct Support Professional
Learn more about our Adult Day Programs