A Fun, Working Life for all Abilities!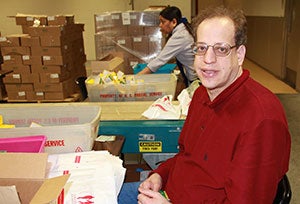 Right down Terminal Road in New Brunswick, New Jersey is a work center that is changing the lives of people with disabilities and special needs. Eric is an employee at the Raritan Valley Work Center who loves and takes great pride in his work.
When you walk into the work area, you'll find Eric sitting right up front. Packaging, assembling, and having fun with friends are the main activities that happen throughout the workday. This work center gives him the opportunity to earn greater independence through his occupation. Having special needs, as Eric does, it can be difficult to find and maintain gainful employment.
According to the Kessler Foundation 2015 National Employment & Disability Survey, Americans with disabilities are striving to work. Last year, nearly 69 percent of people with disabilities that were surveyed were identified as striving to find work. This can be attributed to everything from the need for workplace accommodations to the public perception of people with disabilities and special needs. Eric, however, has defied the odds and is able to earn a paycheck at a job he loves. Not only that, he has maintained his work status for over 20 years! This is a remarkable accomplishment that deserves recognition.
We sat down with Eric to ask him about his success and time spent at the work center.
Q: What is the Raritan Valley Work Center?
Eric: The work center is where I work. I have a job here packaging and assembling things. It keeps me busy during the day. Most of all, I have friends here and enjoy my job. There are many other people working here doing different jobs like me.
Q: What are your working days and hours?
Eric: I work everyday; Monday, Tuesday, Wednesday, Thursday, and Friday. I don't work Saturday and Sunday and holidays especially Christmas. The UGO Van picks me up when the day is over. When it comes, we go back home. Vicky tells everyone to buckle up their seatbelts and says, "how was your day?" and we begin our ride home.

Q: Are you paid for your work?
Eric: I get a paycheck for working hard. I give it to my father to put in the bank. He buys me things I need. We go out to lunch at Burger King and bowling at Shelton Lanes when I come home for the holidays.
Q: Do you like to work here?
Eric: Work is fun. I have friends and supervisors and a girlfriend. The work is easy and makes me very happy to be at the work center. We all talk a lot, I know everybody here.
Q: The work center sounds like a friendly place to work. What do you do with the other people at the work center?
Eric: We all just work very hard and have a good time here. I just love to come here and be with everybody. It's the best place in the world to work!
Easterseals New Jersey is incredibly proud of Eric and can't wait to see what he accomplishes next.
View a small video of Eric at work.
Resources:
Kessler Foundation