National Disability Employment Awareness Month (NDEAM)
Every October is National Employment Awareness Month and there is plenty of WORK to do.
Did you know workers with disabilities…
…are only employed at a rate of 19.1% compared to 65.9% for those without disabilities?

…have trouble being employed full-time, with 31% only able to find part-time work?

…who were previously employed and ready to work have an unemployment rate DOUBLE that of workers without a disability?

— statistics based on BLS 2018 Study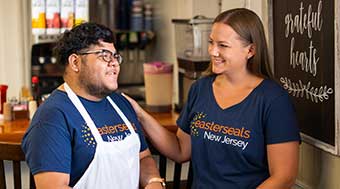 Everyone deserves the opportunity to pursue their career goals and work towards economic independence. These statistics show us a significant portion of the American population is being excluded from the workforce. This is why we would like you to join us in turning these numbers around. It's time we work together towards 100% inclusion in the workplaces.
What you can do…
• If you are a person with a disability seeking work, please contact our employment services program to learn how one of our job coaches can assist you in your job search.

• Join the Easterseals New Jersey advocacy network and appeal to your local representatives for more employment assistance.

• Show the world people with disabilities are capable of working in their communities by following us on social media and sharing our employment success stories.

• If you are a business looking to hire prospective employees with disabilities, speak with our workforce development team to learn how.

• Or check out our interview series below to learn more about employment and disability from experts in the field:
Last updated: October 7, 2019