Volunteer
Volunteers Impact Lives at Easterseals!
At Easterseals New Jersey, volunteerism and charitable service from individuals and community organizations play an integral part in achieving our mission.
Throughout the year, the Rotary Club along with corporate sponsors such as Century 21 Real Estate Corporation and Friendly's provide upkeep and maintenance of the many cabins, facilities and outbuildings on the campgrounds at Easterseals Camp Merry Heart. Individuals and volunteers from other corporations, local businesses, and organizations contribute by holding fundraising events and through hands on volunteering of their time and resources for various program needs year round.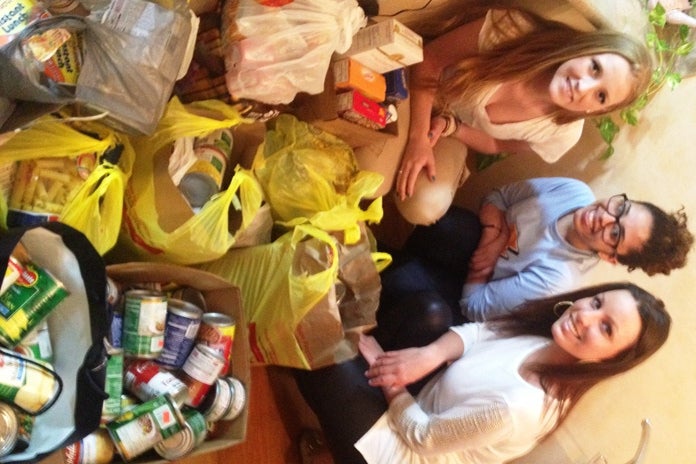 For example, Jane (pictured on the right in photo) is a student at Rutgers University and chose to volunteer/intern at Easterseals NJ's Homeless Shelter in Monmouth County as part of her social work requirements.
The Easterseals homeless shelter provides 30 days of emergency housing to adult county residents, three meals daily, transportation to various community agencies, and referral services to assist residents in their transition to stable and affordable housing.
Jane has gone way beyond the scope of her role as a social work intern. In the aftermath of Hurricane Sandy, the shelter sustained significant losses and was relocated twice. Through her own initiative, she collected and donated clothing and brought hot meals to the shelter for residents and staff in the first tenuous days after the storm. She also enlisted the help of fellow alumni to organize a three-week food drive for the shelter and plans to continue volunteering at the shelter. She is also participating in our upcoming Walk With Me & 5K Run event to help further raise funds for Easterseals programs.
We thank and recognize ALL of our volunteers, like Jane, whose dedicated efforts help Easterseals to provide the best quality of life possible for all of our program participants.
"On behalf of Easterseals New Jersey, and the participants it serves, we express our gratitude and appreciation for the continuous support of service organizations, individual donors and volunteers, and corporate sponsors," said Brian Fitzgerald, ceo and president of Easterseals New Jersey. "Because of their commitment to partnering with us, Easterseals is able to provide the highest levels of service to our families with disabilities and special needs in New Jersey."
YOU can get involved and make a difference in someone's life! Find out how below!
Latest Volunteer Opportunities Available at Easterseals New Jersey
Volunteering has many benefits:
Increases self-esteem
Helps your community
Gain satisfaction by making a difference in the lives of others
Meet new friends
Acquire leadership skills
Build your resume through experience
You, too, can impact lives and create a positive image in your community! Please contact Easterseals New Jersey at (732) 257-6662 to learn how you or your business can be a part of our family through volunteerism and charitable service.
Interested in Volunteering at Easterseals New Jersey?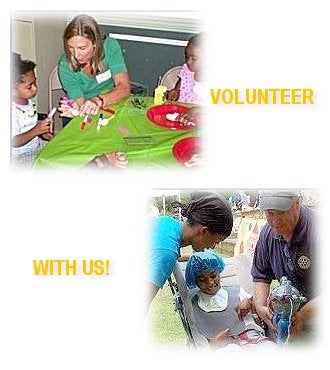 Volunteering is not only an important learning experience, but a special way to lend a helping hand and more importantly your heart! Give a little, gain a lot. Volunteering Works!
If you are in a position to volunteer to help improve our participants' quality of life, we can provide opportunities for you! Easterseals New Jersey provides programs and services for approximately 7,000 individuals with disabilities or special needs throughout the state of New Jersey.
The mission of Easterseals' New Jersey Volunteer Program is to enhance the quality of services provided to approximately 7,000 New Jersey individuals and their families to overcome physical, social and economic barriers through active support in services, fundraising, and affiliation in their communities. The Board of Directors and Easterseals staff believes in the value of volunteer involvement throughout the organization.
As an Easterseals volunteer, you will be an important member of the Easterseals team!
You will be carefully placed in assignments that best match your interests, skills, past experiences and availability
Your volunteer responsibilities will be clearly defined, and you will receive the appropriate orientation, training and staff supervision for your volunteer service assignment.
To learn more about volunteer opportunities in your community, or to discuss donating goods or making a financial contribution, please contact: Helen Drobnis at (732) 257-6662, ext. 200 or by e-mail at hdrobnis@nj.easterseals.com.
(NOTE: Easterseals seeks to ensure and provide equal opportunity to all people seeking volunteer service with Easterseals without regard to race, age, color, religion, sex, marital status, sexual orientation, veteran's status, national origin or disability. Community Service recipients and Service Learning students are welcome to apply.)
Volunteering Works!
Last updated: June 8, 2016