Advocacy Week 2021 Summary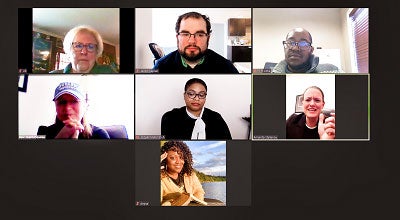 Thank you for making our 2021 Advocacy Weeks such a success! Together, we have sent our legislators over 700 emails advocating for proper funding of Day Habilitation and telehealth accessibility reform and we held meetings with 23 legislators and their staff members. This is an amazing accomplishment and I believe it will truly bear fruit in the weeks and months ahead.
To the members of our organization who sent emails, attended meetings, and signed our petition, thank you so much! We are strongest when we speak as one, there truly is strength in numbers. Your support for our advocacy program and your passion for our mission is what makes our Advocacy Week events so impactful. I just organize them, you're the ones who make them memorable and successful!
Our Impact
Day Hab Funding:
We have received unprecedented support for Day Habilitation funding from members of the Legislature. This progress cannot be denied, and you made it happen! 27 legislators have signed onto our letter calling for a 15% increase in Day Habilitation rates and we are well on our way to achieving our goals for the FY2022 Budget!
Telehealth Accessibility Reform:
We saw the telehealth bill, S-2559, pass unanimously in the Senate after being stalled for months. This bill, along with its Assembly counterpart A-4179, are currently sitting in the Assembly Appropriations Committee. We expect the Committee to take these bills up in May and for it to be passed by the Assembly soon thereafter.
The Issues
Issue #1:
Saving Day Habilitation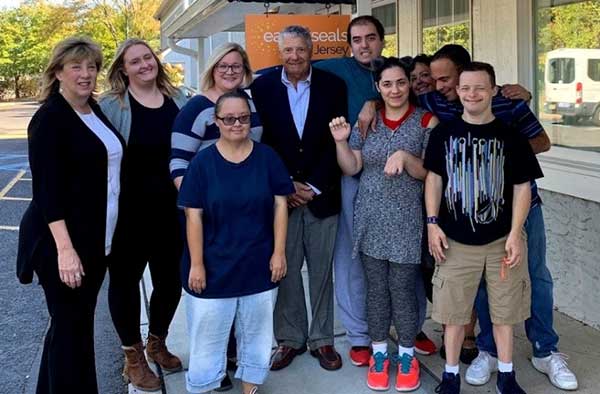 What is Day Habilitation?

Our Day Habilitation program works with individuals who have an intellectual and/or developmental disability to assist them in achieving their life goals. Our day program staff teach participants valuable life skills through instruction and real-world experiences so they can better participate in their community. Eligible participants must be an adult (21+) with an intellectual and/or developmental disability and be Medicaid approved. Easterseals operates five Day Habilitation facilities across the state of New Jersey.
What are our greatest challenges?


Insufficient rates:
Reimbursement rates for the highest functioning program participants are insufficient to cover the cost of providing services to these individuals. The daily rate for an A-tiered individual could be as low as $50 per day, this rate would need to be about $63 per day to cover the cost of providing Day Habilitation services.
Transportation:
Providers are required to transport program participants to and from our sites with no additional funding provided to support this cost. We operate a fleet of 100 vehicles, and our average vehicle has nearly 80,000 miles. We spend over $43,000 per month on vehicle leases alone, and our average vehicle is seven years old.
Absenteeism:
We are required to hold spots for our program participants regardless of whether or not they attend their program on a given day. If individuals are absent, we do not get reimbursed and also cannot remove them from the program. Absences are often related to their disability, not tardiness.
Issue #2:
Access to Telehealth Services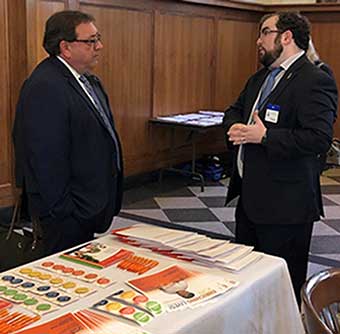 What is telehealth and how do we use it?
Easterseals New Jersey provides a wide range of telehealth and virtual services, including mental health counseling, case management and wellness screenings. Since our locations were ordered closed, and in-person services were curtailed in March of 2020 due to the ongoing COVID-19 pandemic, Easterseals New Jersey has had thousands of telehealth appointments with our program participants. As an example of the success we have had, the no-show rate for our CenterPath Wellness program has dropped 50% since we moved to telehealth visits.
What are the benefits of telehealth?


Accessibility:
We have seen a marked improvement in participant attendance and high levels of satisfaction. By allowing program participants and those providing their care to engage over telehealth platforms, we enable the wellbeing of our most vulnerable community members. It is important for those we serve to know care is within reach.
Fairness:
This is an issue of economic and social justice. Many who receive health coverage through an employer already have access to telehealth services. This is not the case for those on Medicaid or NJ FamilyCare, who tend to be low income and at elevated risk for comorbidities such as mental health challenges and disabilities.
Efficacy:
The value of telehealth services has been clearly demonstrated during this pandemic. This tool enables us to offer effective care to our program participants while also ensuring the safety of this vulnerable population and our dedicated staff. Ensuring this model's continued success is of the utmost importance.
How to Get Involved
We still have a great deal of work to do to get the funding Day Habilitation needs and to get the telehealth bill passed, but you have brought us that much closer to accomplishing these lofty goals. Thank you for speaking up, sharing your stories, making a difference, and being incredible advocates!
Last updated: April 29, 2021