Karen's Story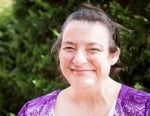 "If it wasn't for Easterseals,
my life wouldn't be this good."

- Karen
At the start of 2015, Karen shared a small room in a nursing home with only a curtain for privacy. She didn't have the freedom to go out into the community, and mostly stayed inside. She was overweight, on oxygen 24 hours a day, and experiencing seizures.
Karen was living, but not thriving.
Things began to change when Karen joined the Easterseals Midwest family. In March 2015, Karen moved into one of our community living homes in Bolivar, Missouri. With the chance for a fresh start, Karen decided to change her life for the better.

Determined to lose weight, Karen started walking, playing Wii with her roommate, and making healthier food choices. So far, Karen has lost over 80 pounds and, amazingly, no longer needs oxygen or suffers from seizures. She even walked a mile in our annual Walk, Run 'n Roll fundraiser this summer—something she could never have imagined doing a year ago.

Karen quickly hit it off with Misty, her roommate, and they love cooking healthy new recipes and doing crafts. They walk together and host holiday parties in their home, including a 4th of July gathering where Karen met Seth.

"I found Seth, he was really romantic," Karen remembers. The two have been together ever since and enjoy going to church and attending Easterseals Midwest dances.

With the support of Easterseals Midwest staff, Karen also just reconnected with her family, an important milestone in her journey back towards a fuller, more active life. After 20 years apart, Karen reunited with her daughter just in time to find out she is going to be a grandmother to twins! Her next goal is to find a job and become employed.

Giving Karen the support she needed to live independently has completely expanded her world and empowered her to create a happier, healthier life for herself.

When you give to Easterseals Midwest you make incredible stories like Karen's possible. Please visit our donation page to learn more about how your gift makes profound, postive differences.
To learn more about the services available at Easterseals Midwest,
please contact us at 1-800-200-2119 or info@esmw.org.