Kathleen Kopach
Director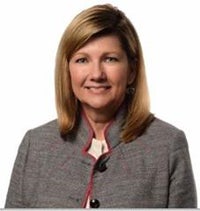 Employment: Retired Attorney - Shaffer, Lombardo, Shurin
In Kathy's 33 years of legal practice, she has handled both plaintiffs' and defendants' commercial matters, business litigation, and personal injury cases. In January 2002, Kathy joined Shaffer Lombardo Shurin (SLS) where she has focused on complex business litigation and insurance defense work.

Kathleen extensive Civic and Charitable work includes serving as a Trustee, St. Mary Board of Trustees; Leader of Delegations to her Church's sister parish in El Salvador; Board Member/President of a Florida Condominium Association; Past President of Parish Council and Past Co-Chair of Parish Capital Campaign.

Kathy lives in Kansas City. She has five granchildren, including and granddaughter with cerebral palsy. In August 2020, Kathy married Tony Kennings. Together, they have 11 grandchildren. They split their time between Kansas City and Stanberry, MO. When not visiting grandchildren, Kathy enjoys reading, gardening, and cooking.
To learn more about our programs at Easterseals Midwest,
please contact us at 1-800-200-2119 or info@esmw.org.