Jake Webb | Veteran Services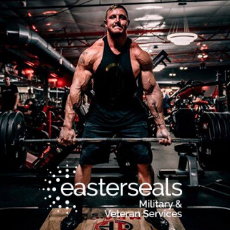 What does it mean to Live? Adam Costello, Veteran's Program Director has adopted the mantra "Team Live," in celebration of Easterseals Miltiary and Veteran Services. Adam says "so many Veteran groups and services focus on isolated resource problems, but we focus on the root issues of not having living a full life such as social isolation and depression." Adam believes sustainable success for Veterans only comes through community groups, social networking, and emotional empowerment in combination with traditional direct services.
Llike many Iraq War Veterans, Jake has been living with significant PTSD (Post Traumatic Stress Disorder) and TBI (Traumatic Brain Injury) which he acquired in his 12 years of service in the National Guard. Similar to nearly 4.7 million Veterans with a "service-connected disability," or the hundreds of Easterseals clients with an acquired disability, Jake never imagined he would have to heavily adapt his daily experiences due to a disability incurred through unfortunate life experiences. After an honorable discharge, Jake became a police officer hoping to continue a theme of serving and protecting his community, but he experienced frequent complications due to his PTSD and ultimately left the force as a result.
THE BURDEN OF RETURNING HOME
Many people don't realize that despite the existence of many Veteran assistance organizations, rates of suicide, homelessness, and drug overdose continue to skyrocket both locally and nation-wide for Veterans. Jake was struggling with his associated depression of his PTSD that he found it very hard to maintain employment was even worried he might end up homeless. In fact, Massachusetts has the largest absolute growth in Veteran homelessness when compared to all other states from 2017-2018! What's more, MA ranks in the top ten for highest rate of drug overdose deaths involving opioids-an issue strongly related to depression and mental health. Jake reports;
"...it was truly terrible. I was scared. I honestly had no self-worth; felt no purpose with life other than my children."


EASTERSEALS SEMINARS AND WORKSHOPS
Jake first encountered Easterseals Military & Veteran Services after his wife found the "Household Budgeting" class on the Veterans Count Facebook Page. After meeting Adam Costello, Veteran Services Coordinator, Jake was offered Easterseals emergency financial assistance, in which Adam helped Jake resolve some outstanding car payment issues. Adam also challenged him to pursue a job at a new local gym, Impact Fitness (Auburn, MA). Jake is very happy and engaged as customer relations coordinator at Impact Fitness. Jake comments...
"... Adam helped me get over that first barrier, and then made me realize that, although my career worsened with my PTSD, I can still help people/veterans in other ways."

VETERANS COUNT CHAPTER (CENTRAL MA)
Once Jake was back on his feet and at home, he decided to join the Central MA Veteran's Count Chapter as a volunteer and ambassador for Team Live. The chapter meets once a month, where various business owners, volunteers, and Veterans get together to not only plan fundraising events, but to simply enjoy each other's company in interactive social settings, like the Black Ale Project at Wormtown Brewery. Adam emphasizes the importance of social bonding as he believes social isolation is the biggest driver of Veteran depression and ultimately suicide. The importance of this can't be overstated with Veteran suicide in MA nearly doubling from 2006 to 2016!
Jake eventually helped facilitate an awesome fundraiser for Easterseals at Impact Fitness, "The 500/1000 lb challenge" which was a friendly competition among Veterans, Civil Servants, and gym members to use training and fitness as a platform for Veteran awareness. Both Jake and Adam, loved the idea of using a community to embrace physical achievement and wellness to engage the public and Veterans around their "Live" theme.