Chris Richards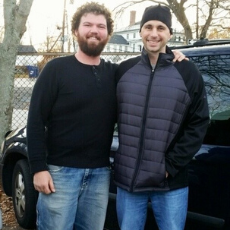 Chris Richards used Easterseals Independent Living Program to meaningful employment with the help of the Easterseals Assistive Technology (AT) Resource Center. Chris, who struggles with chronic pain remembers, "I had heard of Easterseals, but always associated them with children's services...I was amazed when I realized they had a whole department dedicated to helping people in my situation." Within a few months of contacting Easterseals, Chris was exposed to a variety of hands-free assistive software, furnished with adaptive equipment, and fully trained in the context of a redesigned home office. This is part two of Chris's story, in which he has not only maintained a meaningful employment but has become an advocate for disability employment, professionally and socially! For details on Chris's adaptive home office experience, refer to his previous story here.
Acquired Disability vs. Developmental Disability
Chris's story showcasesthe importance of services for those with acquired disabilities. Unlike genetic or developmental disabilities, acquired disabilities are typically defined by an event or trauma, such as strokes, falls, car accidents, industrial accidents, and military combat. Chris had worked hard to earn his engineering degree and had a very rewarding career in the medical device industry for over fifteen years before he became disabled with a debilitating hip injury. As someone who never imagined living with a disability he was surprised to find Easterseals as such a profound ally in his struggle.
Assistive Technology and Telecommuting
In 2000, the US Census estimated that 3.3% of people worked from home. By 2017 that figure had increased to 5.3%, which is more than 8 million people. Since 2005, the number of regular telecommuting employees (excluding the self-employed population) has grown by 115%. In thinking about the emergence of the "work from home culture," Chris believes it's imperative that people with acquired disabilities are aware of assistive technology services. A study by the CDC in 2016 found that approximately 50 million adults in the U.S. live with chronic pain, and of that population 20 million live with high impact chronic pain, or pain which frequently limits life or work activities. "Technology can connect these people to the growing number of remote positions." Chris comments. Indeed, in July 2019, Governor Baker proposed a new tax break to encourage companies to let employees work from home. It is a new frontier for people with disabilities insofar as working from home (with assistive technology) is rapidly becoming a cultural norm in the modern workforce.
From Client to Advocate
For the last two and a half years, Chris has worked part-time as a remote Business Developer at Work Opportunities Unlimited, an organization that specializes in placing job seekers who experience barriers to employment. During that time he has helped over fifty individuals with disabilities find employment and has even earned a performance bonus. His supervisor, Heather Maling-Menard, Director of Business Development insists;
"Chris has been a valuable team member who has changed the lives of several of his clients through locating meaningful employment opportunities for them. He is a dedicated team member who is passionate about the work he does. We are lucky to have him as part of our team."
It is true serendipity that Chris has gone full circle from being a client of Easterseals to actually pushing forth the mission of Easterseals; providing equal opportunities for people with disabilities to live, learn, work, and play in their communities. While Chris's job signifies the "work" aspect of the mission, he places great value on the totality of the mission as it applies to his own recreation (play), creativity (live), and continued advocacy (learn). For example, Chris has recently finished a manuscript about his lifelong friendship with Steven Bott, a man who survived a fifty foot fall onto his head. "In the context of acquired disabilities, Steven has one of the most impressive stories I've ever come across," Chris says, "He's lucky to be alive, never mind having such a positive impact on his community." Chris hopes that his book will uplift and inspire those with disabilities, especially those with chronic pain and traumatic brain injuries. He is currently seeking a publishing partner and has expressed that his new passion for writing has been incredibly satisfying—a passion he doubts would have arisen without the context of his disability.
The Disability Employment Catch 22
It's indisputable that Chris's story is uplifting for Disability Employment Awareness Month; however, like most stories related to the disability movement, it is an evolving story and not the end of the story. Despite how much he enjoys his part time job with Work Opportunities Unlimited, Chris points out that the senior engineering position he held prior to becoming disabled was full-time and allowed for a substantially higher income and more benefits. Limited now to remote, part-time work because of his injury, Chris has had to be aware of his monthly salary and any conflicts with the "hard cap" embedded in federal and social security benefits. Joe Belil, VP of Public Affairs for Easterseals MA points out;
"While many more organizations are focused not only on physical accessibility but ensuring that they have an "inclusive, diversified workforce, there are still a disproportionate number of people with disabilities who don't work or actively participate in society. This is partly due to ingrained cultural mindsets and standards set by the federal government, most notably, people legally classified as 'disabled' have a cap on their monthly salaries if they receive federal benefits. This seems to be simply a kink or bug in the policy system, which is meant to protect people with disabilities under the ADA (Americans with Disabilities Act)."
Similar to most policy issues, there is no simple way to reconcile this dilemma, but awareness of such flaws are definitely the start. Chris says "at the very least, conversations about the limitations of federal benefits helps inform people, and it's always public conversations that create the most powerful change."