Tessa Edwards | Speech & Language Pathologist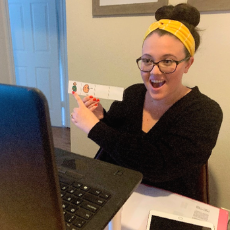 I am a Speech-Language Pathologist at Easterseals Massachusetts (ESMA) and I primarily work in schools and day-habilitation centers. When everything shutdown in March 2020, I had to quickly adapt in order to continue to service my students and clients remotely.
As a speech therapist, I work with individuals with a wide range of disabilities, many of whom utilize Augmentative and Alternative Communication (AAC) to communicate. This presented an enormous challenge as a clinician in the new world of remote therapy. However, while direct therapy sessions can be more challenging through a computer screen, I found the increased connection and engagement with my clients' families to be a surprising (and very much welcomed) positive outcome. I was able to speak with parents and caregivers on a weekly basis about their child's progress and model therapeutic strategies for them to use at home. With many of my clients, I actually began to see an increase in carryover of skills due to the level of family involvement in treatment sessions. This pandemic has taught me that there are many ways to support students remotely and that my services are valued by my clients, families, and other school staff members.
I feel so lucky to be working for Easterseals Massachusetts during COVID. My direct supervisor, as well as other managers within ESMA, are in constant communication with staff. At the beginning of the pandemic I was offered both personal and clinical support during a time when things were very scary and uncertain. I was sent resources to support my clinical skills in an ever changing environment, as well being provided with support regarding how to effectively communicate with our school contracts and families. Also, I felt that my safety and well-being was prioritized. That strong commitment from ESMA to support myself and our clients has continued throughout the pandemic.
COVID has made me even more comfortable with my ability to be flexible as a clinician, partly because I

know

that Easterseals w

ill

support me in whatever challenges a

ri

se.
Going forward, my experiences with COVID have made me confident that I am capable of adapting to change and will continue to provide the services my clients deserve so they can continue to live, learn, work, and play.