Gretchen Proulx | Occupational Therapist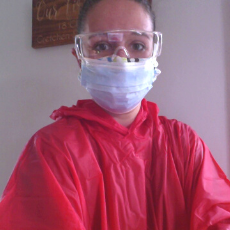 I work in a variety of settings as an Occupational Therapist for Easterseals Massachusetts (ESMA), including skilled nursing facilities (SNFs) and schools. Since the pandemic began in March, my work as an Occupational Therapist has transformed to be challenging and rewarding like never before. I have primarily worked in skilled nursing facilities with some remote and in-person school sessions sprinkled in. By our training as Occupational Therapists we help our clients, amongst other things, to adapt and get things done. COVID-19 is a constant and unpredictable entity that requires most of us to adapt on a daily basis, whether it be for work, our families, or for our own health. In these ways, I feel that the pandemic has shed new light on how essential occupational therapy is to helping people reach their life goals, be it now or in the future.
What I write in this article may have been different had I not had Easterseals Massachusetts supporting my work. An abundance of resources exists at Easterseals, including in person and virtually. Supervisors are phenomenal at keeping their employees and communities informed, prepared, and safe with changing guidelines and practice shifts.
---

"The consistent check-ins, announcements via email of mental health resources, online guided classes, and information on company successes are what keep our mission going."


---
My supervisors welcome and assist with all of my concerns both clinically and personally. It is this constant mentorship and supervisory support that not only keeps me calm but also allows me to deliver best practice to my settings.
We are trained as occupational therapists and, through Easterseals' mission to provide services that ensure children and adults with disabilities have equal opportunities to live, learn, work, and play, we use our clinical skills to recognize strengths and desires that best overcome client barriers, be they personal, environmental, societal, or political. I cannot think of a time in my life when occupational therapy work has been more complex or necessary. We are there helping people make sense of this crazy time so they can keep doing what matters most to them. I find myself coaching more on locus of control (i.e. thinking about "What can we control right now and what is outside of our control?"). Of course, COVID is an uncertain variable for all of us so understanding what we are able to control while setting aside all of the other barriers is often the toughest part of occupational therapy work. Even through the chaos of a worldwide pandemic, it is our responsibility to help our clients think in this way. This is especially true in SNFs as working there during a pandemic makes an already complex caseload even more complicated. COVID guidelines change nearly daily, patient caseloads remain high, and now there is the added decline and health risks associated with social isolation for many long term care residents. Again, occupational therapy plays a huge role in prioritizing goals that are both practical and realistic in the uncertain SNF environment.
Having some "away from the world" time has allowed me to hone in on personal strengths and weaknesses as well as spend time on self-improvement, both personally and professionally. I always strive to deliver outstanding services to all my clients and have used any down time to work on continuing education courses in professional areas of interest such as low vision and fall prevention. I also have more time to reflect and make goals for less familiar pediatric settings. Of course, the downside has been the social isolation from the pandemic. My social groups, fitness classes, and networking are all very much a part of me. With help from my supervisors and co-workers at Easterseals MA; however, I have countless opportunities to connect virtually and use web-based resources to get ideas about how to change or get the most meaning out of what I do.
Since working at Easterseals, especially during the pandemic, I have become used to being more creative with virtual platforms for sessions including the need to plan much more ahead of time to ensure that everyone has what they need for therapy. I fully expect to continue to use these newly enhanced skills post-COVID. Virtual therapy provides more flexibility if sessions are missed as meeting up over Zoom only requires me setting up time to be at my computer and then I can set things up from there. I think if there is one thing we take away from the pandemic as OTs, it is that inclusion of virtual therapy may better serve some of our clients in certain practice settings which may help achieve better outcomes overall.
It has been scary but surprisingly easy to use virtual platforms to conduct remote OT services and communicate with co-workers. I currently see two students weekly using remote sessions. One of them loves it because she enjoys being on the computer in general but it took my other student some getting used to. I spent a lot of time building therapeutic rapport with both students and it helps that we are all living under the pandemic and therefore can share similar life stressors - this helps strengthen our therapist-client bond. Remote therapy has allowed my clients and I to connect and focus regardless of where we are (I have held remote sessions in therapy closets, in common areas like TV lounges, and even once in a hallway). It is challenging with an inconsistent space, but again I feel like it also builds a stronger relationship between my clients and me. We figure out together how to best adapt to change and uncomfortable situations. Not to mention, families, teachers, and clinicians easily participate in remote sessions. They are essential to help OTs fully understand clients within their other contexts.
In short, working for Easterseals Massachusetts during COVID-19 has made me find even more value in what I do as an occupational therapist and has made me more aware of my clinical strengths. Despite the daily struggle that exists for all of us right now, I am proud to work for such a mission-oriented company and to have the opportunity to innovate new ways that occupational therapists can best support their clients' needs to live, learn, work, and play both now and in the future.
Are you interested in joining the Easterseals Massachusetts Rehabilitation Services team? If so, click here to learn about our current career opportunities.