Naomi | Accessible Martial Arts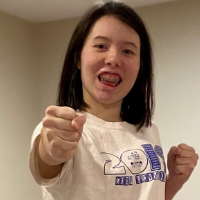 Meet Naomi! She's a 16-year-old superstar in our Accessible Martial Arts (AMA) program. Naomi is on the autism spectrum and loves to take part in recreational activities for fun! With limited options for accessible recreation programs and limited time in Naomi's busy schedule, Easterseals MA's online martial arts classes were a great solution to keep her consistently active without creating timing conflicts. While she participates in activities like skiing and Unified soccer, a virtual AMA class was something new!
"I attended my first class back in May of 2020. I was not sure on how it [ESMA's class] was going to look or feel like."
ESMA understands the value of fostering connections through equal opportunities to participate in accessible recreation. What makes AMA unique is that it strives to be fully inclusive to all individuals with disabilities, in contrast to programs that cater to specific disabilities.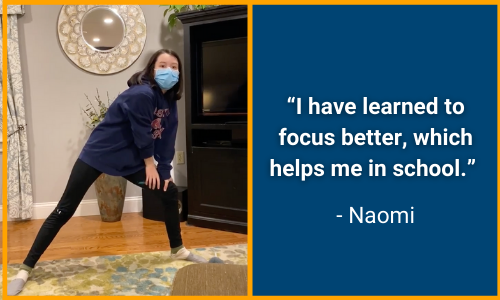 Naomi was initially unsure if she would connect with a class like this and uncertain of what participating would actually be like. After learning of Naomi's interest in AMA, Patrick Remy, Public Affairs & Youth Services Program Specialist, met with her to talk more about the program and ensured she was immersed in her first class with an introduction to her classmates. "The martial arts instructors (Patty and James) are great! They make each session such a welcoming environment." During class, each move is tailored to each of the participant's personal abilities utilizing a work-at-your-own-pace style of teaching. After participating in the program for a while, Patrick caught up with Naomi to get her perspective on how she's benefitted from AMA:
Live: "It keeps me healthy. The classes allow me to get stronger." |
In Massachusetts, nearly 50% of adults with disabilities do not meet basic aerobic physical activity as compared to only 21% of people without disabilities.
Learn: "I have learned to focus better which helps me in school." |
Students who are physically active tend to have better grades, school attendance, cognitive performance (e.g., memory), and classroom behaviors (e.g., on-task behavior),
According to the CDC
.
Play: "Getting to do the Accessible Martial Arts moves (strikes and blocks etc.) which are really fun! + joining a positive peer community." |
Forty percent of adults with a debilitating disability or chronic condition report feelings of loneliness or being socially isolated (
source
). Staying involved in one's community can help avoid isolation.
After her experience with AMA, Naomi has expressed wanting to continue to learn more outside the program and further her martial arts skills! Naomi's dedication to an active lifestyle is a great example of how participating in accessible recreation can improve well-being and help avoid negative health consequences over the long term. Equally important, getting involved can help avoid isolation, which is common among the disability community, and can lead to depression.
The Accessible Martial Arts crew is ecstatic to have Naomi in classes, and is proud to see her as an empowered, healthy community member!