LINDA GOLDBERG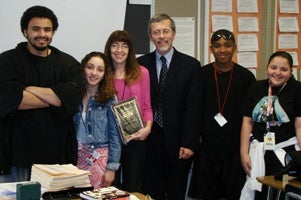 Linda Goldberg is a firm believer in the power of assistive technology.
A special needs teacher and reading specialist at Brockton High School, Linda works with students who have reading and writing challenges.
"Some students will give up when they're given something to read because it's so overwhelming for them," she said. "With assistive technology, they stay engaged. We're giving them a way to access information and express it. Technology helps them become more independent."
Linda works closely with Easter Seals Assistive Technology Specialist Katrina Parker, who spends one day a week at Brockton High with Linda, her students and other teachers. Although Linda didn't grow up with technology and can find it challenging, she's learning to master it with Katrina's help.
"I'm really thankful to have Katrina as a resource," Linda said. "She teaches me how to help my students reach their full potential."
Linda has worked hard to become an expert on Kurzweil software, which converts text to speech, and similar technology. Under her guidance, some students who had a life-long struggle with reading are now asking for specific books to read.
Her determination to empower her students through assistive technology led Easter Seals to present Linda with its Assistive Technology Champion in Education Award.
"I want my students to acquire information and express themselves to the best of their ability," Linda said. "Unless you can find a way for them to do that, other people will never realize how smart they are."
One student, for example, had great comprehension but struggled to decode words and had virtually no writing skills. With Kurzweil software, he passed the MCAS technology test.
To illustrate the effect that Kurzweil software has on her students, Linda recently asked them to fill in the blanks in two sentences to explain how they felt before using Kurzweil and how they feel now.
"Before using Kurzweil, I felt weak and dumb," one wrote. "Now, I feel stronger than ever."