Patrick Remy | Public Affairs & Youth Services Program Specialist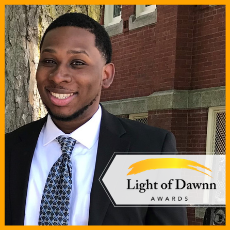 Easterseals MA's own Public Affairs and Youth Services Program Services Specialist, Patrick Remy has been chosen as a recipient of the Light of Dawnn awards by Massachusetts Nonprofit Network! "The Light of Dawnn Awards honor the legacy of youth leader Dawnn Ashley Jaffier, who demonstrated an unwavering commitment to building stronger communities. Three awards are given each year to three front-line nonprofit professionals who, while not in highly-visible roles, have far-reaching and positive impacts in their communities."
When asked what keeps him motivated year after year in his job, Patrick replied,
---

"The ability to connect with the youth and to building strong relationships within the communities that we serve. Easterseals has given me the opportunity to reach out to many youth throughout many communities. Through these connections, I not only get a chance to learn from them, but I feel as if I am helping to mold our future leaders!"
---

You can celebrate Patrick's achievement with us by attending the virtual ceremony on Tuesday, February 23, 2021, at 10 AM! Click here to register now!