Kristi Voelkerding | Assistive Technology Specialist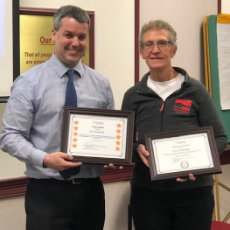 Kristi Voelkerding is an experienced Assistive Technology Specialist who has seen the industry and technology grow immensely over her past 20 years at Easterseals Massachusetts. "20 years ago the typical student I saw in the schools had multiple physical and cognitive disabilities, now I see mostly students who have hidden disabilities - primarily learning disabilities. Technology was not commonplace, and if was available in the classroom it was usually via single switch access and required specially made programs - there wasn't a lot of off-the-shelf options.

"There was no such thing as a tablet - no iPads, no Androids, and cell phones were still tiny flip phones for the most part."
An assistive technology specialist's main role is to provide assistance with technology that is used to make a person with a disability's life easier and more independent. Kristi's longevity in the field shows how her skills have evolved with the ever-changing technology; the more technology progresses, the more creatively Kristi and other AT specialists are able to find custom solutions for clients.

"There was not much in the way of audio text supports that now include annotation tools that make it much easier for students who need access to digital materials. Getting a book into a format that could be read aloud by a computer required hours of standing at a scanner - turning one page at a time because publishers did not provide digital access." Now the spectrum of technology she deals with is much wider including smart devices and switches.

When asked about what makes her so passionate about assistive technology and her Easterseals Massachusetts clients, she says, "I stay interested because no matter how many times I go to evaluate students I still find new ways to help them and that's the most fascinating thing. There's always an opportunity to learn more and to discover new solutions. The technology is always changing. I found my niche at Easter Seals and plan to stay until I need to retire."
To learn more about Assistive Technology services, click here.