Kim Madar | Board-Certified Applied Behavior Analyst (BCBA)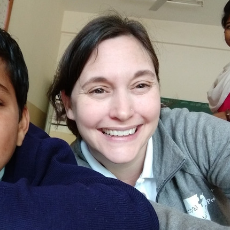 "It's easy to get lost in the mix with so many students and turn over working in a public school system, developmental milestones are so fulfilling and that's what I get to prioritize at Easterseals Massachusetts."
Kim Madar is a Board-Certified Applied Behavior Analyst (BCBA) and Licensed Applied Behavior Analyst (LABA) at Easterseals Massachusetts (ESMA). Kim graduated with her master's and board certifications from Northeastern University in 2002 after studying special education as an undergrad at Syracuse University. She grew up with an affinity for the field of special education, as her mother was a paraprofessional. In fact, Kim always thought she wanted to be like her mother growing up, which is why she took a job as a resource teacher. It was there that she decided she "wanted to do something more intimate and specialized" in the disability community.
Kim loved working as a resource teacher but had a strong desire to specialize, as she felt this would provide her with more opportunities to directly impact her students' lives, so she decided to go into the field of social work. While she was preparing to apply for her master's in social work, Kim took a position providing Applied Behavior Analysis (ABA) services in clients' homes. Kim quickly fell in love with the field of ABA and became fascinated in what was an ever-growing specialization in cognitive and behavioral psychology.
After completing her board certifications in 2006, Kim worked in a public school for six years as well as provided ABA services in clients' homes. In 2015, she was pleasantly surprised to learn that ESMA had established an ABA program. She was aware of ESMA's work as an advocacy and service leader for the disability community and said, "I always wanted to volunteer for Easterseals, but when I saw they were hiring in my field, it seemed almost serendipitous." Kim knew of ESMA's long history of empowering individuals with disabilities, and she was excited for the opportunity to be a part of continuing to develop their ABA program.
Kim was delighted to join the ESMA team as a BCBA as this position offers flexibility and contracts with many demographics in various settings across the lifespan. At ESMA Kim can focus almost exclusively on the merits and strategy of a behavior plan. Kim reflects on the differences of working at ESMA versus other schools/organizations; "It's easy to get lost in the mix with so many students and turn over, developmental milestones are so fulfilling and that's what I get to prioritize at Easterseals."Kim even had the opportunity to be reunited with one of her very first students from her master's program from 10 years earlier! Kim reports, "I was there when the student first said 'mommy, I love you' during my practicum at the New England Center for Children. Flash forward, I was this same student's first consultation when he reentered the public school system from the private setting." Kim described how relieved the student's mom was to see her knowing someone with Kim's experience was there to help.
Kim loves working for ESMA not only for all the great clinical experiences but also because of her fellow ESMA clinicians. All the therapists from ESMA seem to have this "overarching passion for helping people with disabilities in personal ways as opposed to just providing a service." ESMA, of course, prides itself on the credentials and expertise that its employees bring to any program, but ultimately, it's the unrivaled personal investment from staff like Kim that separates ESMA from other organizations. ESMA salutes Kim for her commitment to her profession and passion for positively changing people's lives every day.
---
Meet some more of our therapists!
Nikita l Kirstyn l Sarah l Valerie
---
Employment Opportunities
Are you interested in joining the Easterseals team?
Check out all of our job opportunities here