Empowering Abilities Together
24K in 24 Hours



BY THE NUMBERS | disability

(un)

employment

What does it mean to have equal opportunities to work? Click each statistic to see critical disparities in employment opportunities and why supporting employment services are essential to a more inclusive future for you and your loved ones.
12.1% drop
3X
16.1%
27th
From February to June, the total number of people with disabilities working in America dropped by 12.1% according to the Bureau of Labor. During economic downturns, research shows workers with disabilities are especially vulnerable to layoffs. In Mass, where the unemployment rate is still one of the highest in the country, workers with disabilities have been hit especially hard by the pandemic. They tend to have underlying health conditions and working in an "essential" job has made it impossible for people with disabilities to return to work until the risk of covid-19 spread is lowered.
Across all age groups, labor force participation rates are 3X higher for people without a disability as compared to people with a disability—68.7 percent. versus 20.8 percent.
Massachusetts had the highest unemployment rate in the country for two months in a row at 16.1% (06/20, 07/20) and remains well above the national average with 11.3% unemployment in August. Studies show that unemployment contributes heavily to increasing trends of homelessness, poverty, and even suicide amongst local Veterans. Record high unemployment rates during the pandemic compound disproportionately high unemployment rates for people with a disability (regardless of education)- 7.3 percent, compared with 3.5 percent for people without a disability.
We can do better! Massachusetts ranks 27th in the country for overall disability employment representation. Additionally, the state set a goal of 12% for representation of employees with disabilities in public office, but has remained at 3% for years.
Double your gift with our Matching Gift Campaign!
National Disability Employment Awareness Month
U.S. DEPARTMENT OF LABOR ANNOUNCES AWARENESS MONTH THEME: 'INCREASING ACCESS AND OPPORTUNITY'
"Ensuring that America's workplaces continue to include and accommodate people with disabilities will be an important part of our economic rebound," said U.S. Secretary of Labor Eugene Scalia.

"Looking ahead, the Department will remain focused on the policies that led to a strong economy and record-low unemployment rates for persons with disabilities prior to the pandemic. A vigorous economic rebound and job growth will, alongside the Americans with Disabilities Act, increase access and opportunity for Americans with disabilities."

#GDWork #NDEAM75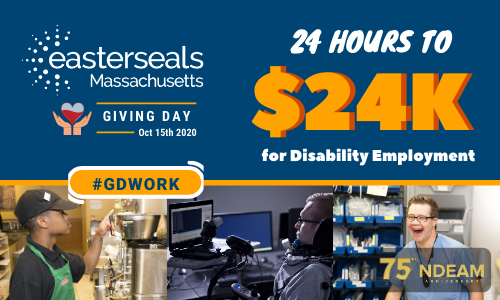 Easterseals provides comprehensive services to ensure Veterans and people with various disabilities are competitive in the labor force!
"Fair disability representation in the workforce is not defined just by accomodations, but a culture that embraces human potential."
-Joe Bellil, VP of Easterseals MA Public Affairs
Success Stories

Only 20.8 percent of persons with a disability were employed, the U.S. Bureau of Labor Statistics reported. In contrast, the employment-population ratio for persons without a disability was 68.7 percent. The importance of employment services cuts across all ages, abilities, and demographics-especially in a pandemic.
Read these local stories
and discover how Easterseals works with local business leaders, volunteers, and other organizations to ensure all types of people with various disabilities have access to services and training which make them competitive in the labor force!
Disability History Timeline
Easterseals MA had emerged as a disability service agency in 1944. In 1945, Congress declared the first week of October "National Employ the Physically Handicapped Week." In 1962, the word "physically" was dropped to include individuals with all types of disabilities. Congress expanded the week to a month in 1988, and changed the commemoration to National Disability Employment Awareness Month.
In 2009, A group of students with disabilities from Easterseals MAyouth leadership network advocated for disability history to be recognized by local government resulting in General Laws. Section 15LLLLL: "The governor shall annually issue a proclamation setting apart the month of October as Disability History Month to increase awareness and understanding of the contributions made by persons with disabilities. Appropriate state agencies and cities and towns and public schools, colleges and universities shall establish programs designed to educate and promote these objectives."
The Americans with Disabilities Act (ADA) was signed by President George H. W. Bush on July 26, 1990. As a result of this landmark legislation, communities and workplaces across the nation have become more inclusive and welcoming for America's nearly 40 million people with disabilities.
Oct 15th, 2020 Easterseals and its network of supporters honor the 20th Anniversary of the ADA and 75th anniversary of the National Disability Employment Awareness Month