- GIVING DAY - Live
Empowering Abilities Together



BY THE NUMBERS |
Obstacles & Redefining Solutions

What does it mean to Live? Adam Costello, Veteran's Program Director has adopted the mantra "Team Live," in celebration of Easterseals Military and Veteran Services. Adam says "so many Veteran groups and services focus on isolated resource problems, but we focus on the root issues of not having living a full life such as social isolation and depression." Adam believes sustainable success for Veterans only comes through community groups, social networking, and emotional empowerment in combination with traditional direct services like job training and financial assistance.
9,400,000,000
Ages 18-35
76%
1
The VA Health Administration, alone, spent $9.4 Billion for mental health services and $222 Million for suicide prevention outreach in 2019. However, the outcome of this investment conflicts with the dollars spent.
Veterans ages 18-35 have the highest and fastest growing suicide rate among the veteran community.
The suicide rate among veterans ages 18-35 increased by 76% from 2005-2017. *National Veteran Suicide Annual Report. US Department of Veteran Affairs.
1 - It only takes one person to help keep a veteran from feeling isolated. Isolation has been shown to be a significant risk factor for suicide. Among Veterans Healthcare administration patients, suicide rates are highest among those who are currently unmarried or divorced.
Free t-shirt when you join Team Live!
Our Unique and Preventive Approach
Why does Easterseals take a different approach?
Despite increased funding, the Veteran suicide rate in Massachusetts nearly doubled from 2006-2016, from a rate of 10.7 per 100,000 to 20.2* As demonstrated by the stats above, traditional modes of Veteran services aren't making the desired impact. This is evident in the tens of billions of dollars has been poured into expanded mental health services for the Veteran Community as a result of rising suicide rates. And yet, while the investment in mental health programming increases, the problem(s) continue to steadily increase as well.
How
are Easterseals Veteran services different?
The
Easterseals
Veterans programs take a preventative approach to helping the veteran community. We focus on the younger veteran demographic in an attempt to catch them befo
re they fall, empower them with accurate information and introduce them to the skills and resources that are proven to lead to a more successful civilian life.
Through mentorship programs, seminars on budgeting, interview skills and healthy lifestyle activities, we
are able to empower our veteran community to lead sustainable
and productive lives. Secondly, ESMA identified the need for certain services and groups to focus on Women Military and Veteran issues, which aren't always appreciated in traditional service structures.
Many of these programs are not State for Federally funded and rely solely on the individual donor.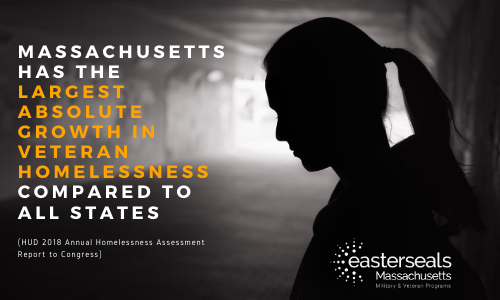 Easterseals provides comprehensive services to ensure Veterans have access to resources before crisis hits.
"So many Veteran groups and services focus on isolated resource problems, but we focus on the root issues of not having living a full life such as social isolation and depression."
-Adam Costello, Director of Veteran Services
Veterans experience individual, but also very similar challenges returning home after service.
Read these local stories
to see that even when all the warning signs are present, there is a clear pattern of Veterans not knowing how to access available resources and ending up in crisis situations. These hardships are preventable or may be overcome, through consistent skill-building opportunities and experienced guidance coupled with community reintegration through family and peer activities.
A Timeline of Empowerment.
Easterseals MA had emerged as a disability service agency in 1944. Through the years Easterseals has been continually developing new programs and innovative approaches to meet the evolving needs of its clients. While there are many disability and Veteran services providers in the country and state, Easterseals Massachusetts is famous for finding innovative solutions and reliable funding when others can't or won't.
ESMA Veterans program launched - These programs take a proactive approach to achieve an environment that promotes and maintains the full spectrum of issues including physical, financial and mental wellness of our service members. By, 2017 ESMA introduced a series of seminars to cover the skills and information necessary to reduce the risk factors associated with long-term hardships common in the veteran community, including household budgeting, understanding benefits, career growth, and others.
Easterseals becomes first in the state to establish an Assistive Technology Center for the public. Easterseals recognized not only the potential benefits that technology held for our clients with disabilities, but the large problem of access and reliable funding. The intersection of physical disabiltiy and Veterans makes Easterseals uniquely well suited to improve a Veteran's quality of life. Today, what began with a few donated computers and one specialist, Easterseals Massachusetts has over 20 specialists and utilize a wide array of software, hardware and adaptive devices helping Veterans become competitive in the workplace and more independent.
By 2018 ESMA partnered with the United Stated Department of Labor to provide career assistance services to veterans with young families who were facing homelessness, or homeless, in Massachusett. ESMA is introducing a website that provides skills training and information in an online, on-demand format (along with several other features) so that veterans may receive this critical information from their homes or mobile device. In this way, we begin to reduce common barriers that often prevent individuals from receiving this information, such as transportation issues, child care, employment hours, physical limitations, and more.