Giving Day Learn
Empowering Abilities Together




BY THE NUMBERS |
Bridging the Gap in Education

Public education is always topic of debate in terms of equity and quality. Now imagine what the public-school experience is like for someone with a disability. Students with disabilities are asking for equal opportunities to learn. Easterseals Massachusetts (ESMA) ensures children, adolescents, and young adults receive the equipment and individualized support they need to access public-school curriculum and colleges with integrity. Whether it is ensuring a family can borrow a needed iPad, training educators how to include non-verbal students in the classroom with peers, or avoid alarming dropout rates in college; ESMA bridges the gap in our local youth's education goals. Click each statistic below to see how.
2,560
59%
166
50,000
Since 2015, 2,560 clients have borrowed AT (assistive technology) devices for free from Easterseals AT Regional Centers for learning related goals. The pandemic did not interrupt Easterseal's mission as 345 clients have been served for learning/education goals since March 2020 despite shut downs and limited staffing. Free long-term and short term device loans are particularly important given the documented relationship between AT and academic performance. A nation wide report of various role players in schools and AT showed that 95% of respondents believe there is a strong relationship with socio-economic status and access to AT.
Nationally, students with autism drop out of post-secondary environments (college) at a rate of 59%. Currently, the Easterseals MA College Navigator program has a dropout rate of less than 10%! Bob Hoyt was the first student to graduate from a university with the guidance of the College Navigator program. Read his success story below!
Since March, 2020, 166 assistive technology devices have been loaned to children and adults in Massachusetts for learning related goals. This includes periods of complete lockdown where Easterseals staff were personally delivering needed AT equipment to clients since there was no public transit and other serious access barriers. Since 2015, 2,082 devices have been loaned to people in Massachusetts for learning goals.
50,000 teens per year age out of school based autism services. Due to a lack of structural support for people with disabilities in the college setting and a lack of cultural expectations around college participation for people with disabilities, many of these teens end up in a cycle of joblessness and low quality of life. Since 2018, The College Navigator program has served 64 clients, many of whom have autism and would have been at risk of dropping out like many of their disabled peers.
Free t-shirt when you join Team Learn!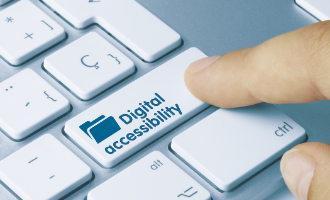 Assistive Technology
Regional Centers

Our ATRCs are a FREE state-wide resource for students with disabilities and parents to borrow hi-tech and low-tech equipment without making a financial investment. The ATRCs also offer monthly device demonstrations and workshops to help educators and students accomplish their independence and IEP goals.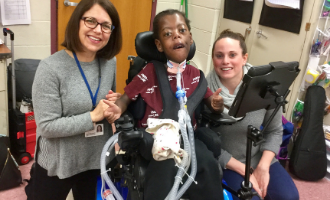 Augmentative & Alternative Communication in Schools

Our AAC services allow non-verbal children the opportunity to develop alongside their peers in the classroom as well as accessing public school curriculums. Our clinicians are experts in the field and currently offer remote, hybrid, and in-person models to address the unique needs of our clients.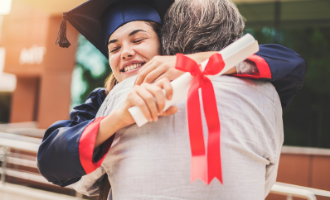 College
Navigator

The College Navigator program identifies barriers, advocates for needs, and creates a supportive environment to improve outcomes for students with disabilities in the post-secondary (college) setting. This program fills a major gap in disability supports in college which only focus on physical accommodations.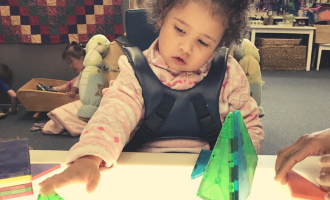 Rebecca, four years old, has various physical and cognitive disabilities, struggled when she first arrived in her preschool in a town northwest of Boston. She was welcomed by her special education team. Her teacher got to work considering how to engage Rebecca in the classroom. Read how accessible toys borrowed from the ATRC helped create genuine inclusion for Rebecca.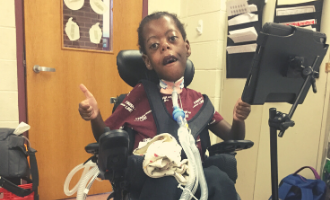 DJ Young
AAC in Public Schools

DJ is 8 years old and currently in the second grade at the East Taunton Elementary School system. He was born with congenital fibro-type disproportion; ventilator and g-tube dependent. DJ was seen by two Easterseals specialists, who used a combination of AT devices and AAC training to help DJ since he can't use his hands much. Read more to see how DJ not only participates fully in class, but has become a leader amongst his peers!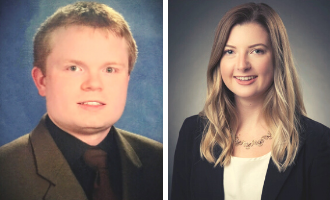 Bob Hoyt
College Navigator Grad.

College Navigator's first graduate! While receiving College Navigator services, Bob was able to meet his academic goals, connect with on campus services, and become more confident in himself. In spring 2020, Bob graduated from the University of Massachusetts Lowell with a B.A. in Liberal Arts with Art History and Philosophy concentration. Read more to see how Bob and his Navigator created strategies and practiced skills for an amazing outcome.
A Timeline of Student Empowerment.
Easterseals Massachusetts (ESMA) emerged as a disability service agency in 1944. Through the years Easterseals has been continually developing new programs and innovative approaches to meet the evolving needs of its clients. In 1960, ESMA was one of the first organizations to provide therapy outside of the hospital setting and directly in the community. When children with disabilities obtained the right to go to public schools in the 1970s, Easterseals began contract therapy with schools. Our first big contract was with the Boston Public School (where we are still). School-based therapy led to a major ramping up of not just our therapy program, but other educational services as well.
In 2018, Easterseals launched the College Navigator pilot program with no state funding in order to address the growing problem of high dropout rates for young adults with disabilities in the college setting. Our community support staff understood that most college administration lacked specific experience addressing complex needs of people with disabilities, such as people with autism. Additionally, disability support offices focused almost exclusively on physical accommodations, which was not sufficient for creating true access and inclusion for people with complex social and organizational challenges.
Easterseals becomes first in the state to establish an Assistive Technology Center for the public. Easterseals recognized not only the potential benefits that technology held for our clients with disabilities, but the large problem of access and reliable funding. Today, Easterseals has contracts with 57 public schools state-wide for AT and AAC services. In the past 5 years, 2082 AT devices have been loaned for educational goals. What began with a few donated computers and one specialist, ESMA has over 20 specialists and utilize a wide array of software, hardware and adaptive devices helping students of all ages develop and truly integrate along their peers in various educational settings.
DDS (Department of Developmental Services) has extended the College Navigator pilot program through June 30, 2021, and expanded the student capacity from 20 to 30 students. This expansion in both time and capacity for the program has allowed ESMA to continue to work with students during the challenges of COVID-19 and offer services to new students to support them during this challenging time. This fall ESMA submitted an RFR proposal to become a service provider for DDS shifting the program from a pilot to a permanent program. This would allow ESMA to expand the College Navigator program beyond 30 students and help as many students as possible to successfully complete college on their journey to competitive employment.