ADAPTIVE AND ACCESSIBLE SWIM PROGRAMS
SUMMER RECREATIONAL SWIM IN CENTRAL MA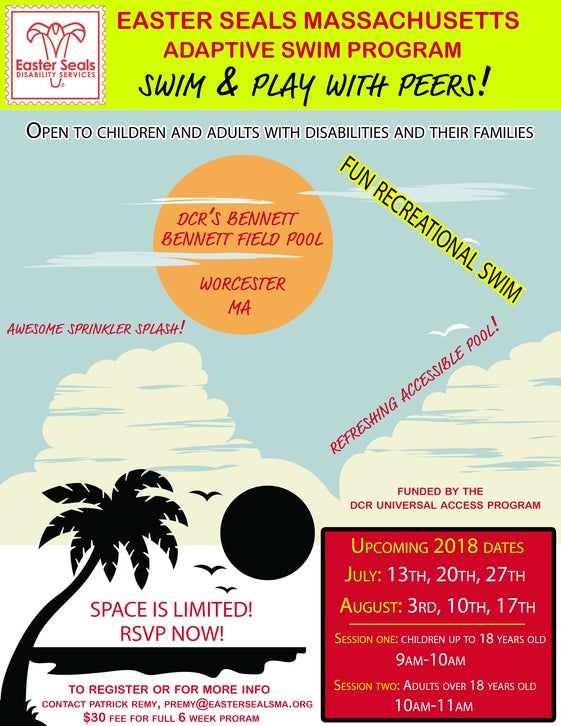 In partnership with the MA Department of Conservation and Recreation's (DCR) Universal Access Program, Easterseals MA is offering an adapted recreational swim program this summer at the fully accessible Bennett Field Pool in Worcester. Lead by aquatics instructors and a lifeguard, groups will participate in fun safety activities and water games that maximize independence in the water. This is a six-week, recreational program and does not provide swim lessons. The swim program is open to individuals with disabilities of all ages and their families. This is a special opportunity to swim with new friends before the pool opens to the public! Space is limited. Please pre-register here.
Summer 2018 Program (Worcester)
Location: Bennett Field Pool, 1260 Main Street, Worcester
Dates: Friday mornings, July 13, 20, 27, August 3, 10 and 17
Times: 9:00-9:45am: kids ages 5-12*
10-10:45am: older kids and adults*
Cost: $30 for six weeks, scholarship available upon request
*individuals who cannot swim or participate independently must be accompanied by an adult or aide.
Please pre-register to receive registration forms. Email rec@eastersealsma.org with any questions
YEAR-ROUND ACCESSIBLE SWIM PROGRAMS IN CANTON
Easterseals MA also runs community swim programs in Pappas Rehabilitation Hospital for Children's warm, salt-water pool. All facilities and changing areas are fully accessible and there is plenty of free parking available. Lifeguards are on duty to provide supervision and safety. There is a fee to participate in these programs and advance registration and intake is required.
Saturday Community Swim
This is an "open swim" opportunity for people with disabilities to enjoy recreational swimming in a heated pool. No instruction or therapy is provided and each swimmer is required to have 1:1 assistance in the pool. Groups welcome. Each session runs for 9 weeks during the school year.
9:00am-10:30am Children up to 18 years
10:30-12:00pm Adults 18 years and older
Water Exercise Class
Lead by a certified Water Exercise Instructor, each class meets 2-3 times per week during a 12-week session. This class is open to people with and without disabilities who are independent swimmers.
For more information on our swim opportunities in Canton please contact Mary DeGrenier: mdegrenier@eastersealsma.org or 781-830-8761.