ASSISTIVE TECHNOLOGY REGIONAL CENTERS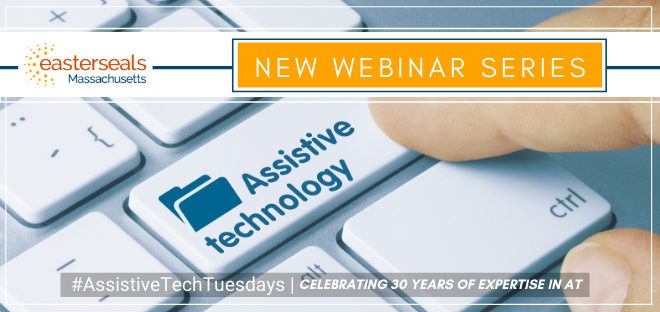 New Webinar Series! Episodes 1-6 now available.
Be sure to tune every Tuesday for #AssistiveTechTuesdays for tips, demonstrations, and stories of how assistive technology can help you live, learn, work, and play more independently!
---
COVID-19 Updates: Both ATRCs are operational, but limited. We can perform some equipment demonstrations using remote technologies with advance notice. There are no drop in services available however. For more details;
Contact Eric, eoddleifson@eastersealsma.org, 508-751-6330
or Leo, ltonevski@eastersealsma.org, 508 751 6431
We are practicing strict cleaning procedures for incoming equipment. There are numerous signs outside both offices indicating where to leave returned equipment to ensure we are not contributing to the spread of COVID-19. Six foot social distancing is also in effect for all in person communications.

MassMATCH Assistive Technology Regional Centers
The MassMATCH Assistive Technology Regional Centers (ATRCs) help people with disabilities in eastern and central Massachusetts make informed decisions about assistive technology (AT) they can use to increase their independence at home, on the job or in school. Search available Inventory

The centers share the Easterseals Massachusetts mission of ensuring that children and adults with disabilities have equal opportunities to live, learn, work and play.
---

How does the Device Demonstration Program work?
At the centers, individuals and groups can explore hundreds of high- and low-tech devices that can meet a variety of needs. From simple to sophisticated, Easter Seals MA has the technology for you.
The centers is conveniently located, our Boston center is located one block from South Station in our Boston office, while our Worcester center is located on Main Street, across from City Hall in our Worcester office. The ATRCs encourage you to schedule a visit, participate in a free workshop, or reserve a time to host your staff meeting or in-service training onsite at the ATRCs.
How does the Device Short-term Loan Program work?
The process is simple! It's like a lending library, only instead of books, you can take home the equipment and try it out for up to four weeks to see what works for you and what doesn't!
Requests for loans can come from you, a family member, friend, advocate or someone who is helping you with your assistive technology needs, such as a therapist, teacher or rehab center. Complete a loan request form and get the technology you need today.
Hundreds of devices are available in the areas of communication, education, hearing and vision impairment, and daily living.
These Programs Are FREE.
Funded by the Rehabilitation Service Administration (RSA) of the U.S. Department of Education under the AT Act of 1998, as amended in 2004.
ATRC leads the Commonwealth's efforts to implement the provisions of the federal Assistive Technology Act of 1998, as amended. The Device Demonstration and Loan program is part of the MassMATCH Massachusetts Assistive Technology Act Program.
The purpose of MassMATCH is to get assistive technology (AT) into the hands of people with disabilities through programs that provide increased access and acquisition to AT. Assistive technology is any item or piece of equipment used to maintain or improve the capabilities of people with disabilities. Assistive technology can help people with disabilities participate and be more independent in school, at home, in the workplace and in the community.
MassMATCH assists individuals with disabilities, family members and disability-related providers, agencies and organizations across the state with getting AT.
A wide range of technology and devices are available to learn about and try out before purchasing. Read about how this program has positively impacted our clients' lives. Click for more.
This program provides access to low interest cash loans for the purchase of assistive devices and services to improve the quality of life for people with disabilities with disabilities as well as assistance with obtaining AT devices. Click for more.

---