MAKING LIFE ACCESSIBLE
Empowerment begins with accessibility.
---


Easterseals MA local Resources
Weight and Seating Independence Project (WSIP)
MassMatch launched the Weight and Seating Independence Project (WSIP) in 2017 in response to learning about the needs of individuals with spinal cord injury (SCI). The WSIP offers access to specialized scales designed for people who use wheelchairs, as well as digital pressure mapping technology (PMT). We have portable scales and PMT devices available for borrowing at both of our ATRCs. Learn more here.
Downloadable Transportation Guide
Planning for transportation independence. Click for full guide. This chart is a starting place to help ensure educators, students and families know their accessible transportation options and can take full advantage of their communities. Transportation education creates a culture that engages students, families, educators, pupil transporters, and public transportation professionals to empower and support student learners.
Assistive Technology
Whether it's getting a loan for an essental piece of adaptive equipment, learning how to improve independence at home, or simply knowing what your options are; we guarantee you will learn something useful when you experience our assistive technology services. Learn more
---

National Resources
Easterseals and Freddie Mac Offer Financial Guidance
Get smart about your credit and work towards your homeownership goal. Get financial advice here.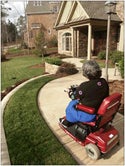 Easterseals Project ACTION
Find accessible public transportation.
National Center on Senior Transportation
Increasing transportation options for older adults and enhancing their ability to live more independently within their communities throughout the United States.
Accessibility of the Web and Web Tools
Easterseals leads efforts to put people with disabilities to work on the Web and to promote Web accessibility.
Easy Access Housing
Building or remodeling a home? Make it accessible for people with disabilities.
s.a.f.e.t.y. first
Be sure you and your colleages have an emergency evacuation plan.
Accessible Child Care
Make your child care center accessible for children of all abilities.
FRIENDS WHO CARE®
FRIENDS WHO CARE® is designed to help children better understand what it means and how it feels to be a young person with a disability.