Kathleen Jackson: A Thank You To ESL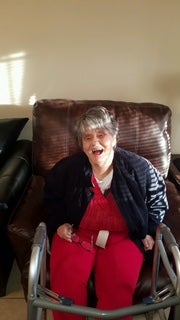 Kathleen Jackson, a NOW participant and client of Easterseals since 2011 shared her story and wrote this sweet thank you to her Support Coordinator, Diana Farrell:
"I was born early, my eye lids were injured which caused the muscles around my eyes to be weak. As a result, my eyes are partially closed and I wear glasses. In order for me to see most things I have to bring the object where it is almost touching my nose.
My developmental milestones were delayed, so I stayed in several boarding schools. At age 6, I was removed from a boarding school because my family was told I had reached my learning potential. I then was placed in another boarding school but was asked to leave because I would jump fences and into the street. At age 7, I was asked to leave another school because of behavior issues. Growing up I did not have a lot of fun.
At the young age of 8 I was placed in an institution – I was in this institution for 51 years.
I am happy to say I no longer am institutionalized. I am fortunate to have the NOW Waiver. I attend a Day Program in Hammond, Louisiana 5 days a week. I get picked up and brought home every day. I was receiving a small income by sorting beads, but I am not sure why I don't receive a pay check any longer – my team leader and Support Coordinator told me but I don't quite understand it.
When I arrive to my home, I have a staff member through the NOW Waiver that helps me get off of the bus and I am never home alone. It is nice because I also have a roommate whom I share in-home staff with most of the time. My staff cooks for me, encourages me to keep my room clean, helps me with bathing and dressing and grocery shops for my roommate and myself.
What makes me the happiest about having the blessing of the NOW Waiver is that I have a place to call home – I am safe, I am not in a large place with a lot of people that cause my behavior concerns.
People tell me that I am known for my kindness and my love for others. I really, really LOVE to get into the community to shop and I am so thankful that I can do that now.
I want to thank all of the people that make this happen for me, but for most of all for being able to live in our community amongst all sorts of individuals."
Receiving thank you letters like this make the work that our Easterseals staff does every day worth it. It is a simple reminder that we truly are making an impact in the lives of many. We are Easterseals Louisiana, and we are taking on disability!