Thank you for tuning in to the all-local Telethon on WEHT Local!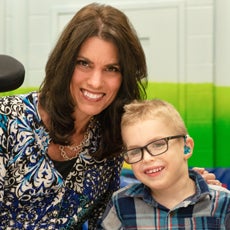 Thank you, WEHT Local, and the entire Tri-State!
The 2019 Easterseals Telethon reached a "final tote" of $1,003,958!
The 42nd annual Easterseals Telethon ended at 6 p.m. Sunday, April 7, with a "final tote" of $1,003,958 raised for the Easterseals Rehabilitation Center. It was the eighth year in a row the all-local Telethon raised over $1 million. All proceeds will underwrite therapy for tri-state children and adults with disabilities served by the nonprofit Easterseals Rehabilitation Center in Evansville.

Among the support that was instrumental to the Telethon's success was the generosity of the E'ville Iron Street Rod Club. The local street rod enthusiasts are among Easterseals' largest supporters. The club hosted a cruise-in during the Telethon and also donated proceeds from their 2018 Frog Follies Street Rod Show.

Many other individuals, businesses and groups also presented checks and several matched viewers' pledges. "Pacesetter" volunteers turned in pledges raised in advance of the show. Many people dropped off donations at the "fish bowl." Local companies and civic organizations answered phones from viewers calling in pledges. Other businesses and groups competed to raise funds by making outbound calls from the "Dialin' and Duelin' for Dollars" call center.

The Telethon aired live on WEHT Local from inside the Easterseals Rehabilitation Center, 3701 Bellemeade Avenue, Evansville. WEHT Local is the only station in the U.S. donating 100 percent of production and air time costs for a local Easterseals Telethon. The final hour of the show was also simulcast on Local 7 WTVW. Hosting the show were Eyewitness News team members Brad Byrd, Shelley Kirk, Wayne Hart, Ron Rhodes, Jake Boswell, Randall Parmley, and Ange Humphrey.

A highlight of the show was the presentation of a Lifetime Achievement Award to Brod Seymour for his exceptional support of Easterseals. For many years, Brod was a WEHT news director and anchor, who hosted the first 12 local Easterseals Telethons starting in 1978. He continued his commitment to Easterseals after retiring from broadcasting. Now, at age 96, Brod continues to raise funds each year as an Easterseals PaceSetter volunteer.

Among many individuals featured on the show were local Easterseals Child Ambassador Sam Osborne and Adult Ambassador Michelle Schmitt, both of Evansville. Viewers also saw video success stories created and donated by "Direction by Newman" in cooperation with WEHT Local and Local 7 WTVW.

This year's Telethon broadcast was dedicated to 1994 Easterseals Child Ambassador Erica Richey, who passed away in March at age 30. Erica's mother Kim Richey, sisters Mikaeyla and Alexis Richey, and grandmother Tina Riley appeared on the show to share memories of Erica and her Easterseals story.

Mayor Lloyd Winnecke appeared on the broadcast to proclaim April 7, 2019, as "Easterseals Day" in the City of Evansville. Several individuals, businesses and organizations appearing on the show received Easterseals Mayor's Awards for their exceptional support of tri-state children and adults with disabilities.

The Easterseals Rehabilitation Center serves approximately 5,300 children and adults with disabilities from a 30-county area of Indiana, Kentucky, and Illinois. No one is turned away due to inability to pay for medical rehabilitation therapy, which is offered on a sliding fee scale. Since 1978, the annual Telethon has now raised approximately $24,213,223.

All local contributions to the Easterseals Rehabilitation Center – including all Telethon pledges – stay in the community, underwriting therapy sessions for individuals who cannot otherwise afford these life-changing services at the Easterseals Rehabilitation Center. Financial support is needed year round. Donations can be made any time on our secure donation page; in person or by mail to Easterseals, 3701 Bellemeade Ave., Evansville, IN 47714; or by calling 812-479-1411.