Celebrating all the "firsts" with Waylon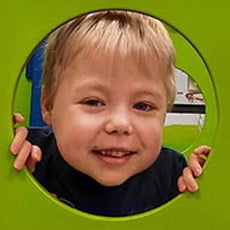 Waylon is only 4 ½ and he has already faced more challenges than most of us do in a lifetime. But thanks to a wide range of Easterseals services, Waylon is achieving milestones that once seemed unreachable!

Waylon was born almost 10 weeks early weighing just 3 pounds, 11 ounces. During nine months in the NICU, he overcame a dangerous viral infection, serious breathing and heart problems, and other health emergencies. This determined little boy has come a long way since then!
Now Waylon is focused on catching up developmentally. Easterseals therapies and other services are helping him reach goals to keep up with his friends, thrive at school, and be active in the community. "Waylon is making amazing progress," said his mom, Amanda. "And we love that we are able to meet all his needs in one place – at Easterseals!"

Right now, Waylon is learning to climb stairs in the Easterseals Rehabilitation Center gym. He can ride a tricycle for a short distance using foot straps on the pedals. He's learning to grasp a crayon to draw shapes and print letters.
Some of the most exciting changes for Waylon's family? "He is now starting to eat by mouth! It's something we have been working on since he was one year old!" Amanda said. Waylon uses a communication device to "speak" for him, but he's learning to talk and recently started to use his own voice! "We heard him laugh out loud for the first time around his fourth birthday, and it was the best sound!" Amanda said. "We have now heard him say Daddy, Mommy, sissy, and I love you!"

Waylon still has lots of work ahead of him as he pursues his goals and dreams. With the support of a generous community, Easterseals will be here for Waylon – and for thousands of other local people who are working toward a bright future!
Follow this link to read more local Easterseals impact stories.