"Once you can communicate, it's life changing!"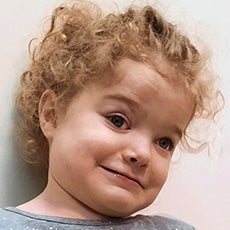 Every child is unique! Five-year-old Caroline has a great smile, a slightly mischievous sense of humor, and an endless supply of determination. She loves dancing like a ballerina, playing with Barbie dolls, and watching Disney princess movies. This very social little girl also LOVES communicating with her friends, family, and teachers – a goal that seemed out of reach until Caroline's family found Easterseals two years ago.
Caroline was born with a rare genetic condition, and one of her biggest obstacles has been learning to talk. "She knows what she wants to say. Her brain is sending the signals," said Caroline's mother Lisa. "She just has trouble forming the words." Specialized Easterseals speech-language services are helping Caroline express herself and share her unique personality.
First, Easterseals taught Caroline to communicate by pointing at symbols for common objects, actions and emotions. She quickly moved on to use a computerized communication device customized just for her. Caroline presses buttons representing dozens of words and phrases, and the device "speaks" whatever she chooses!
Caroline also keeps working hard in Easterseals therapy to speak clearly using her own voice. She has progressed from saying "mom" and "dad" to forming more complex words, speaking words with multiple syllables, and even combining words into sentences. "Her speech is just blossoming," Lisa said. "Once you can communicate, it's life changing!"
Because of generous community support, Easterseals' life-changing services empower local people like Caroline to find their own voice, and to pursue their own unique goals and dreams!
To read more local Easterseals impact stories, follow this link.