Michelle's journey to greater independence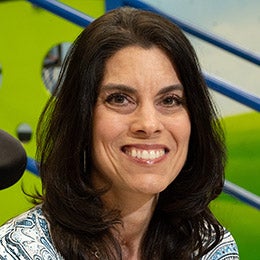 Michelle Schmitt has always loved being active outdoors. That's exactly what she was doing on an August evening in 2015 when life took an unexpected turn. Michelle was a passenger on a two-person ATV that crashed, causing a spinal cord injury and partial paralysis. Michelle could no longer walk, and she faced a long road to regain her independence.
After two years of rehab out of town, Michelle discovered the Easterseals Rehabilitation Center close to home in Evansville. She started working with her Easterseals physical therapist and began achieving important goals, including returning to her full-time job at Old National Bank.
Now many of Michelle's goals focus on greater independence at home. She's very determined and has made huge gains in strength and balance.
Michelle can now walk for up to 45 minutes using a walker! She can stand independently for extended periods of time to accomplish household tasks she had missed doing on her own. She can once again cook meals, reach items in her kitchen cabinets, wash dishes, load and unload her washer and dryer, hang up clothes in her closet, and do other daily tasks that most of us take for granted.
Michelle continues working hard in Easterseals therapy twice a week. One of her major goals is walking up and down a stairway! She is currently tackling two flights of stairs with assistance from her therapist, and Michelle says she's just getting started.
Michelle also makes time to give back to Easterseals. Not only is she serving as this year's Easterseals Adult Ambassador, she recently joined the all-volunteer Board of Directors to provide leadership and support to the organization that means so much to her.