Ritzy's Fantasy of Lights
Open Thanksgiving through New Year's Day!


It's the 28th year of Ritzy's Fantasy of Lights - the beloved holiday tradition that raises funds for the Easterseals Rehabilitation Center!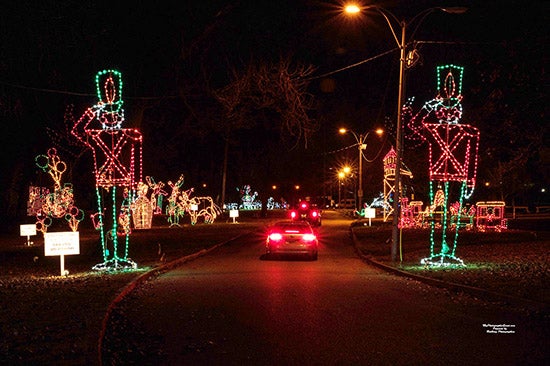 Evansville's Garvin Park is filled with sparkling holiday light displays and the Tri-State is invited to drive the 1-mile park route starting Thanksgiving night! Each time you visit, you'll help provide inclusive early education and therapy for local children and adults with disabilities.
Five new displays have been added to this year's event for a total of 70 light displays! Colorful animation gives the illusion of movement to many displays and - NEW in 2021 - all displays have been transformed with brighter, more energy-efficient LED light bulbs! This year's event will shine brighter and bigger than ever before!
DATES
Thursday, November 25, 2021 to Saturday, January 1, 2022
Closed to vehicle traffic and open only for "Bright Lights 5K & 1-Mile Walk" on Wednesday, December 1, 2021.
HOURS
Sunday-Thursday, 5-9pm CST
Friday and Saturday, 5-10pm CST
Christmas Eve and Christmas Day, 5-10pm CST
TICKETS
Tickets are available at the gate each night using cash. Want to use a card? Help us speed up the line by purchasing tickets in advance! Visit one.bidpal.net/ritzysfol21 to buy your tickets today!
Tickets are also available at any Ritzy's restaurant location in Evansville!
PRICES
Admission is charged per vehicle (NOT per person) and remains the same, affordable price!
Up to 6 people in a vehicle...

$7

7-14 people in a vehicle...

$10

15 or more people in a vehicle...

$25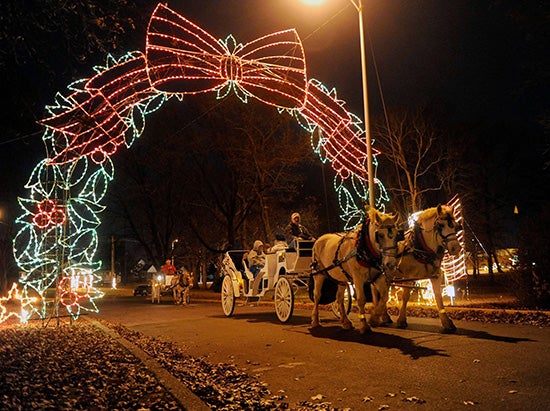 CARRIAGE RIDES,

$30
Carriage rides are provided by the Horseshoe Bend Carriage Co. each night through December 31, weather-permitting, and offer a unique way to see the holiday light displays! For a $30 admission, a total of up to six people can ride in a carriage. Children age 5 and under are free and not included in the total number of people in the carriage. Carriage rides are not available on Jan. 1, 2022.
Carriage rides are CASH or CHECK only. Carriages are first-come, first-served; no reservations are accepted. Carriages are EXTREMELY popular on weekends and holidays. Please plan to arrive early and be prepared for a wait list. Remember to dress warmly!
IMPORTANT: The carriage rides are weather-permitting only. The Horseshoe Bend Carriage Co. takes extreme care and uses their expert discretion with their horses and equipment.
Rides may not be offered in the event of sprinkles, rain, below freezing temperatures, snow, icy conditions, etc. Additionally, carriage rides may close early due to weather conditions. For safety and health reasons, if rain is predicted for the evening, the carriages will NOT be operating.
Every effort will be made to notify the public in advance if carriage rides will not be available. The most up-to-date information can be found on the Easterseals Rehabilitation Center's Facebook page: www.facebook.com/EastersealsRehabCtr
Please use the Heidelbach Avenue entrance to Bosse Field for carriage rides.
Questions about carriage rides? Please visit our carriage ride FAQs page for answers to commonly asked questions: one.bidpal.net/ritzysfol21/custom/custom1
---
Polar Bear Express, sponsored by Jim Back, CFP-Financial Advisor Edward Jones
November 30, December 7, December 14, December 21
Returning this year, Ritzy's Fantasy of Lights guests can ride on the "Polar Bear Express" with Santa Claus! During the ride through the park, Santa will read a custom story about the holiday light displays!
This special opportunity will only be available on select Tuesday nights, starting at 5pm CST. Price per person is $5 with all proceeds benefiting the Easterseals Rehabilitation Center.
The party bus limousine, provided by SUV Limousine, will load and unload passengers in the parking lot near the entrance of Ritzy's Fantasy of Lights. Please enter using the Heidelbach Avenue entrance.
---
Bright Lights 5K & 1-Mile Walk
---
Proceeds from Ritzy's Fantasy of Lights help underwrite inclusive early education and therapy for local kids and adults with disabilities at the Easterseals Rehabilitation Center. Thank you for your generous support!
Thank you to all the companies and families that sponsor individual light displays. We also thank our 2021 major sponsors: Ritzy's, IBEW Local 16, NECA, Teamsters Local 215, Electrical JATC, IUPAT Local 156, ABC 25 / CW 7, Kenny Kent Chevrolet, Tools 4 Teaching, Evansville Living, Lamar Advertising, 104.1 WIKY, HOT96, 93.5 The Lloyd, and 107.5 WABX.
A special thank you to the Evansville Department of Parks & Recreation for their continued support for Ritzy's Fantasy of Lights in Garvin Park. Please DO NOT contact the Parks Dept. with questions regarding Ritzy's Fantasy of Lights. Please contact Carolyn Franklin, Director of Special Events at the Easterseals Rehabilitation Center, at 812.437.2607 or CFranklin@evansvillerehab.com
Follow us on social media:
Last updated: November 19, 2021