Easterseals Tribute
Join us at the June 5 Tribute event to honor the Sean Roy Hilt Foundation.
The 2019 Easterseals Tribute event will be Wednesday, June 5 at 6 p.m. in the Crescent Room at the Easterseals Early Learning Center. This year, Easterseals will honor the Sean Roy Hilt Foundation.
The Foundation is a group of caring friends of Sean Hilt, who died at age 32 from injuries sustained in a car accident. Sean's friends are dedicated to keeping his memory alive through their acts of generosity to the Easterseals Rehabilitation Center, local individuals with disabilities, and many others in the community.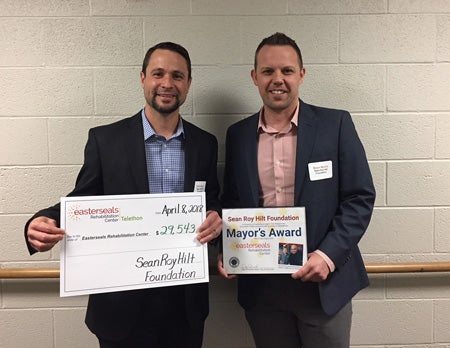 (Photo: Zach Martin (left) and Brian Myrick represented the generous Sean Roy Hilt Foundation on the 2018 Easterseals Telethon. Help us honor the foundation at the 2019 Tribute Dinner!)
For details on Tribute sponsorships and reservations, please contact Laura Terhune, Easterseals Vice President of Development, at 812.437.2627 or LTerhune@evansvillerehab.com.
Downloads:
Easterseals Tribute 2019 Invitation
Easterseals Tribute Ad Reservation Form 2019